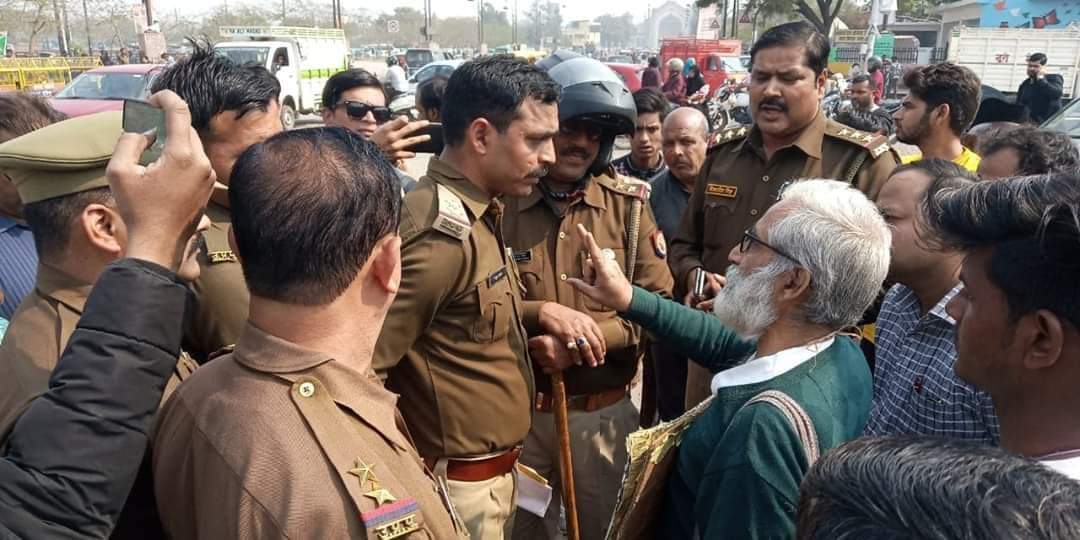 Continuing with its trend of supressing the anti-CAA-NRC movement, the UP police did not allow a march organised on 17 February, 2020, in Lucknow around noon time by UP Coordination Committee Against CAA-NRC-NPR-Detention Centres and Socialist Party (India) from Ghantaghar, where women have been protesting for a month now, to another protest site Ujariyaon in Gomti Nagar. Ten activists Ashok Bharti, Sharad Patel, Ravindra, Abyudaya Pratap Singh, Anurag Shukla, Amit Maurya, Rakesh, Kamlesh, Abhishek Gautam and Sandeep Pandey were part of the march. The police allowed the march to start after some argument but soon ACP, D.P. Tiwari stopped it and detained the marchers at a police outpost. Later he informed the marchers that they were being booked under section 151 of Cr.P.C.  The marchers were taken to police stations at Chowk and Thakurganj, medical examination was performed and finally given bail on personal bond around 5:30 pm by an ACP.
While the marchers were insisting on exercising their fundamental rights to freedom of speech and expression, to assemble peaceably and without arms and to move freely throughout the territory of India, the police was giving the excuse of threat to law and order and the imposition of section 144 of Cr.P.C. The police were reminded of the view of the Supreme Court  that section 144 cannot be used as a tool to prevent legitimate expression of opinion, grievance or exercise of democratic rights.
There is excessive curb on dissent on the matter of CAA-NRC in UP. The government is using the police as a tool for brutal repression and wants to crush the movement. It is because of the women and their children that the movement against CAA-NRC could emerge and take roots in UP and elsewhere in the country. March from Ghantaghar to Ujariyaon was in support of these valiant women and also the create awareness among common people that contrary to the widesread opinion it is not just a threat to Muslims but also to the non-Muslims in the country who are unable to prove their citizenship.
---