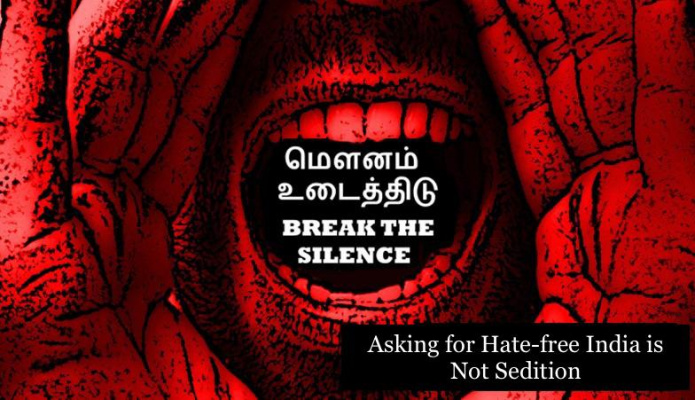 Friends from Tamil Nadu have sent us the 418 endorsements they have got to the open letter to the PM by 49 respected citizens. The letter was written to draw the PM's attention to the rising incidents of mob lynching in the country. Their endorsements are accompanied by the following statement:
To: Thiru Narendra Damodar Modi
Honourable Prime Minister of India
7 October, 2019
Dear Prime Minister:
On July 24, 2019, 49 prominent Indians wrote to the Prime Minister condemning mob violence and lynching. In October, acting on a private complaint, a Chief Judicial Magistrate in Muzzafarpur, Bihar, directed the police to register a case of sedition against the signatories to the letter. The complaint and the direction of the CJM are in violation of the letter and spirit of the Constitution. Below is the text of the original letter signed by the 49 persons now charged with sedition. We wish to add our endorsement and bring the letter to your notice once again. We hope you agree and will declare that asking for a hate-free India is not sedition.
The original letter, which we endorse as citizens of India is as below:
Dear Prime Minister
We, as peace-loving and proud Indians, are deeply concerned about a number of tragic events that have been happening in recent times in our beloved country.
Our Constitution declares India as a secular, socialist democratic republic where citizens of all religions, ethnicities, gender and castes are equal. Hence, to ensure that every citizen enjoys the rights given to her/him by the constitution, our submission is:
1. The lynching of Muslims, Dalits and other minorities must be stopped immediately. We were shocked to learn from the NCRB (National Crime Records Bureau) reports that there had been no less than 840 instances of atrocities against Dalits in the year 2016, and a definite decline in the percentage of convictions.
Further, 254 religious identity-based hate crimes were reported between January 1, 2009 and October 29, 2018 where at least 91 persons were killed and 579 were injured. (FactChecker.in database October 30, 2018). The Citizens' Religious Hate-Crime Watch recorded that muslims (14% of India's population) were the victims in 62% of the cases, and christians (2% of the population) in 14% of cases. About 90% of these attacks were reported after May 2014, when your government assumed power nationally.
You have criticised such lynchings in parliament Mr. Prime Minister, but that is not enough! What action has actually been taken against the perpetrators? We strongly feel that such offences should be declared non-bailable and that exemplary punishment should be meted strictly and surely. If life imprisonment without parole can be the sentence in cases of murder, why not for lynchings, which are even more heinous?
No citizen should have to live in fear in his/her own country!
Regrettably "Jai Shri Ram" has become a provocative 'war-cry.' Today, that leads to law and order problems and many lynchings take place in its name. It is shocking that so much violence should be perpetrated in the name of religion. These are not the Middle Ages! The name of Ram is sacred to many in the majority community of India. As the highest Executive of this country, you must put a stop to the name of Ram being defiled in this manner.
2) There is no democracy without dissent. People should not be branded 'anti-national' or 'urban Naxal' and incarcerated because of dissent against the government. Article 19 of the Constitution of India protects freedom of speech and expression, of which dissent is an integral part.
Criticising the ruling party does not imply criticising the nation. No ruling party is synonymous with the country where it is in power. It is only one of the political parties of that country. Hence, anti-government stands cannot be equated with anti-national sentiment. An open environment where dissent is not crushed, only makes for a stronger nation.
We hope our suggestions will be taken in the spirit that they are meant – as Indians genuinely concerned with, and anxious about, the fate of our nation.
With best regards.
Yours sincerely,
A P Josy
Aabha Muralidharan
Aaron Moses Reuben
Aasha Ramesh
Abdul Haque
Abhay Shukla
Abhishek Shaw
Abraham Chacko P
Achin Chakraborty
Achuthan Palat
Aimee Wadia
Akhila Phadnis
Akshitha
Amalorpavanathan
Amelia
Amita
Amitava Saraswati
Amos Suna
Anandhi
Ananth
Aneesh Pradhan
Anil Menon
Anil T Varghese
Anisha Lazarus
Anjali
Anjana Rajagopalan
Anna Mathew
Anna Thomas
Anomita
Antony Nixon
Antonysamy
Anu Thomas
Anuradha Bhasin
Anush Srivatsan
Archana Shah
Archanaa Seker
ARCY Pinto
Arima Valan Immanuel
Arjun
Arunabha Ghosh
Arvind Kaushal
Asha
Ashiq
Ashish
Ashokkumar
Asif Moiz Jadliwala
Aysha Rau
B Girija
Bala Natarajan
Balakanthan
Balasubramanian
Bernard D'Mello
Bhavik Kothari
Biju Mk
Bikram Sen
Bindu
Blaise Joseph
Bratati Bal Das
Bridget
Carmen Gomes
Caxton
Cedric Prakash
Chandan Mukherjee
Chandiran Joseph
Charu Govindan
Charu Govindan
Chinnaiah Jangam
Chitra Palekar
D Ravi Kanth
David Manohar
Dawood Miakhan
Debashish Bhattacherjee
Deepak Malghan
Deepti Pradhan
Dennis
Devika Rani
Devina Dutt
Diethono Nakhro
Dinesh G
Divya chaudhry
Divya D
Dorothy
Dr V Janaki
Dr V Rukmini Rao
Dr Y Srinivasa Rao
Dr Zaibunissa
Duming
Duran Kumar Jiwani
Edward Wilson
Elizabeth Seshadri
Farida
Farooque Khan
Farrukh Waris
Francis Fernandes
Francis P
Gail Coelho
Gané Gané
Ganesh Raut
Geeta Seshu
Geetha Devarajan
George Thomas
Gopal
Gopalakrishnan
Gopi
Gopi Krishna
Gowtham K Ranganathan
Gurumoorthy
Hamida vasanwala
Hans
Hariharan
Hayley
Hema
Hilloo Damkrvala
Ibrahim Hashim
Ibrahim Rungla
Ilavarasi Duraimanickam
Indira hirway
Intikhab Ahmad
Irfan Refai
Janaki S
Janani
Jayati Ghosh
Jayoo
Jayraj Rau
Jean
Jerome Kujur
Jeyachandran
Jimmy Bilimoria
Joaquim V Gomes
Joe Athialy
Joel Fernando R
John Jayaharan
Jose Changa
Jose George
Jude
Jugal
Juggy Jagannathan
Jyoti Bahen
K C Sundaram
K Kalpana
K S Narendran
K Sudha
Kamal Patel
Kamar
Karthick
Karthik Seshadri
Karthikeya Sivasenapathty
Kasturi Adhikary
Katheeja Talha
Kaustub
Kaveri
Keshav Desiraju
Koki
krishna kumar k J
Krishnakant
Krithiga Viswanathan
Kurian
Lancy Dsouza
Leelashree Godara
Lenny Rodrigues
Lissy Joseph
Lourdhu Rajesh
M Haseef
M R Vikram
Mahaboob Basha Vastaad
Maharukh Adrnwalls
Mahendra G Nadkarni
Mahesh Lobo
Mahima A Jain
Mamta
Manasa Gade
Manisha Gupte
Manju
Manoj Pillai
Manoranjan Singh
Mansi Gandhi
Mariam Jetpurwalla
Marie-Elena Ribeiro Castellino
Mark Yadav
Mary Kunnirickal
Mazher Hussain
Meena
Meer Iftekhar Ali
Meera
Meera K
Meera Ravikumar
Meera Viswanathan
Meher
Michael Xavier
Milind Champanerkar
Mini
Mini Mathew
Mohamed M S
Mohamed Rizwan
Mohammed Baseer Ahmed
Mouno Bhaumik
Mrinalini Ravi
Ruhi
Mrudul Nile
Muthukumar T
Naazim
Nagmani Rao
Nandalal Narute
Narendra
Nathan Fernandez
Navroz Seervai
Nayantara Panjwani
Neena
Neeta Ratwani
Nikitha Phyllis
Nilakantan
Nimisha Kumar
NishaSingapore
Nityanand Jayaraman
Nivedita
Nivedita Menon
Om Prakash Singh
P E Esakkimuthu
Padma Balasubramanian
Padma Velaskar
Padmaja Shaw
Pankaj Chalke
Papiya Durairaj
Parimala
Partha Ghosh
Partha Ray
Paul Chacko
Pawan Ranta
Peer Mohamed A
Peter Ronald desouza
PK Abdul Rahiman
PK Subramanian
Poornima K
Prabhat Sharan
Pramod Balakrishnan
Prasad Manjrekar
Prashant Kothadiya
Pratima Pardeshi
Praveen Kumar T
Pravin Nilawe
Preetha
Prem Palanivel
Priya
Priyadarshini
purushottam warlu chandekar
PV Ramprasaanth
R Mahendran
R Vaigai
Radha
Radhika Ganesh
Rafi
Rafia
Rafiq Sait
Raghav
Rahul
Rahul Rai
Raja Swamy
Rajaraman
Rajendra K Sail
rajesh chauhan
Raji
Rajith
Ram
Ramachandran Palpandi Raja
Ramesh Dorairajan
Ramesh Dwivedi
Rammanohar Reddy
Rathnavel
Ravi Mathew
Ravindran Sriramachandran
Ravindran Sriramachandran
Razi
Renu
Rethna Swamy
Rinchen Wangdi
Rishikhant Rishikhant
Ritu Dewan
RM Manivannan
Roger Gaikwad
Rohit Shetti
Romar Correa
Roopa Sharma
Rose
Roshni Rajaram
Rowena DSilva
Rowena shibu
Rukmini
Runu
Ruth
S D Lala
S Dutta
S Thomas Jayaraj
S V Rajadurai
Sachin Shrivastava
sadhana dadhich
Saeed Patel
Safeel
Sagari R Ramdas
Saji Cherian
Sajive Kanwar
Sakshi Thakur
Sameer
Samuel Asir Raj
Samyuktha PC
Sangamithra
Sanjay Singhvi
Sathya P
Sayon Majumdar
Seema Bal
Senthil Kumar
Shajan Antony
Shakuntala Kulkarni
Shalu
Shameem
Shankar Prakash
Shanmathi
Shanthini
Shanti Pinto
Sharadha
Sharadha Shankar
Sharmita Nair
Shashi chandrababu
Shazia Akbar
Sherebanu Frosh
Shirin N Sethna
Shiv
Shivananda siddappa
Shobita Shetty
Shrikant Shriram Modak
Shubashree Desikan
Shweta Damle
Sindhuja Janakiraman
Siva Ananth
Sivakumar KS
Smita
Sonali Sengupta
Sridharan
Srinivasan
Srinivasan G
Stephen George
Subhagata Bhattacharya
Sudha Sharan
Sudheer
Sudhir Nayak
Suhail Masood
Suhara Kamar
Sujatha n
Sujatha rao
Sukumar
Sumita Banerji
Sundari RavindranMalaysia
Suniti S R
Sunkara Rajendra Prasad
Suresh Melettukochy
Suresh nc
Susan Abraham
Susan Cherian
Susan Mathews
Susannah Malkan
Swami SN
Syed Khalique Ahmed
T M Krishna
T Mohan
T Swaminathan
Tamil Rajendiran
Tani BH
Tannaz Commissariat
Tariq Akbar
Tathagato Roychoudhury
Thamizan
Tharun
Thiagarajan Annamalai
Thomas Franco
Thumma Xavier
TN Gopalan
Tracy Jose
Uma Krish
Uma Murugan
Urvashi Lunia
Usha Albuquerque
Usha Chattopadhyay
Usha Somasundaram
Uthra Venkatraman
V Geetha
Vaishnavi
Vaishnavi Jayakumar
Valerie
Vandana
Vandana gopikumar
Vandana Kulkarni
Vanlalhlana Sailo
Varghese Theckanath
Varghese Theckanath
Vasanti Damle
Veena P
Venkat
Venkatesh Chakravarthy
Vibha Kamat
Vicky Chandhok
Vidyut Gore
Vignesh
Vignesh Rajendran
Vijay Kumar
Vijay MunshiSingapore
Vincent
Vinu Lobo
Virgil d sami
Virochan Raote
Vivek Sen
Wahid Shariff
Washington
Wsherine
Yash Agrawal
Yasmeen
Yasmin
Zaheer Ali
Zahir Ansari
Zayaan mujeeb
---
Read more:
More of us will speak every day: Another 650 add their names to open letter
An open letter to our fellow citizens: More of us will speak every day…
From Karnataka: ನಮ್ಮಲ್ಲಿ ಹೆಚ್ಚಿನವರು ಪ್ರತಿದಿನ ಮಾತನಾಡುತ್ತಾರೆ…
From Kerala: ഇനിയും ശബ്ദം ഉയരും…