More than 150 organisations and people of conscience from across the world have come together to launch a campaign targeting NSO Group's Pegasus, serving Israel's apartheid and exported to be used against dissenting voices globally. The campaign demands an end to all spyware trade.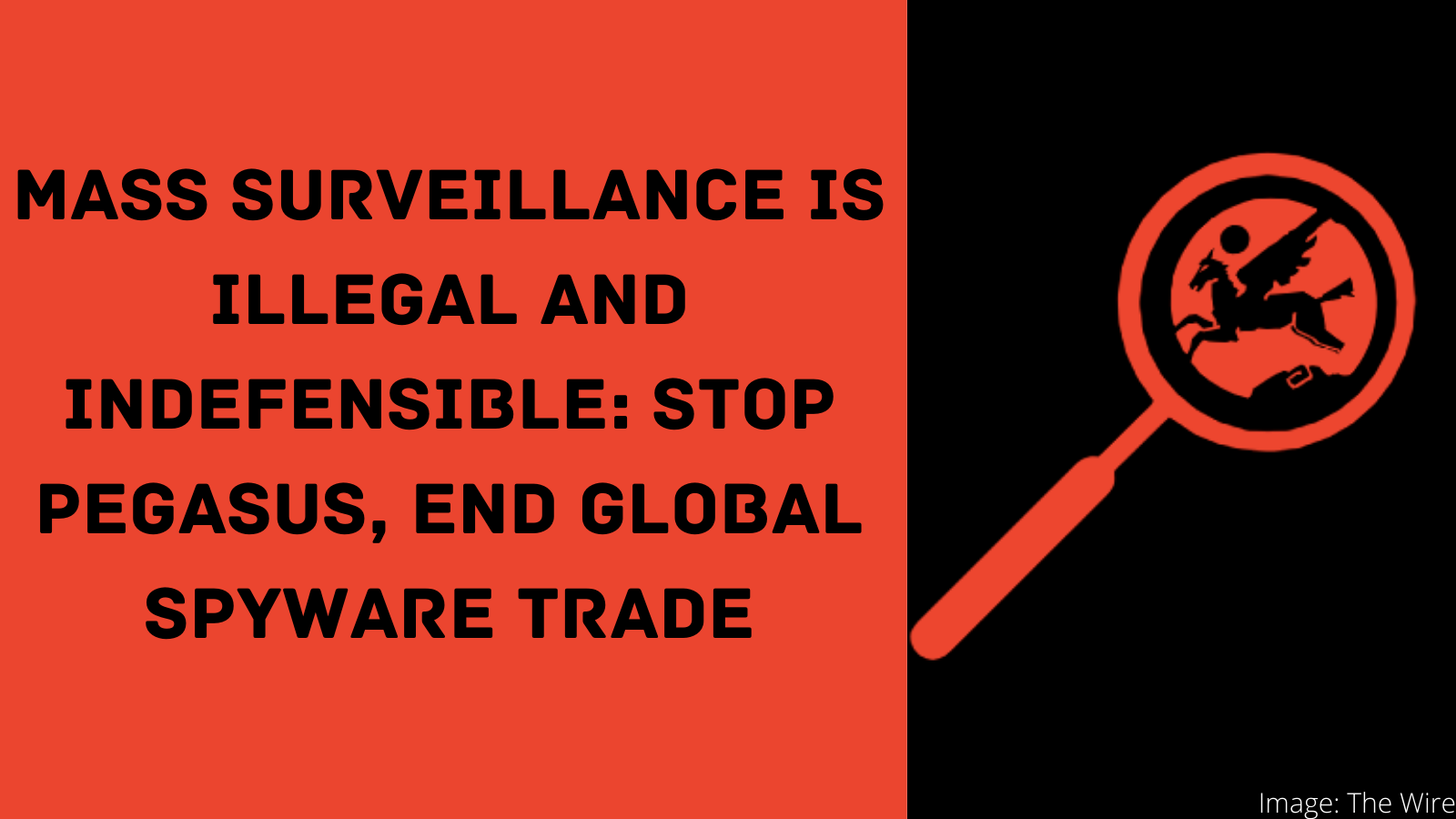 They're not security products. They're not providing any kind of protection, any kind of prophylactic. They don't make vaccines – the only thing they sell is the virus."
– Edward Snowden on commercial spyware
The Pegasus investigation has revealed the pervasive extent to which Israeli cyberweapons have been deployed against journalists, human rights defenders, opposition leaders and heads of states across the world. Quite unlike what the makers of such spywares have claimed, it is quite clear that Pegasus was used principally by authoritarian regimes or such figures within governments, and only for de-democratic ends: to weaken people's voices and to suppress both truth and their tellers. 
It is no surprise that the presence of Pegasus or its instrumental role can be found in the grossest of violations in today's time: symbolized in the brazen murder of journalists Jamal Khashoggi and Cecilio Pineda Birto. Investigations  in 2016 and in 2021 reflect that half the countries in the world have deployed Pegasus against whoever they thought were threats to their authority. Between 2016 and now, despite multiple lawsuits and condemnations by global bodies, NSO Group has continued to thrive, receive endorsement by Israel, and is now part of the unicorn club of startups with a valuation of 1 billion dollars.
But NSO Group is just the tip of the iceberg. What was once the preserve of the most elite state intelligence units and security companies seeking to protect resources and people from getting hacked, the production and export of 'intrusion softwares' is now an unregulated global industry worth billions of dollars in world trade. The sums are reflective of the proliferation of such weapons that seek to hand over our most intimate thoughts and actions to regimes that are willing to pay to control them. And the proliferation shows: over the last few years such spywares have been instrumental in the breakup of protests, deportations, torture and killings in Honkong, Egypt, Myanmar, Nigeria Saudi Arabia, Singapore, Ethiopia Libya, Turkey, Hungary, and the United states to name a few. We cannot forget India here which has not just used Pegasus against the entire breath of the opposition to the current Hindu nationalist regime, but also used spyware to criminalize activists who have spent their lifetimes working with and for the people- among them 83- years old Jesuit priest, Fr Stan Swamy who died in judicial custody last month.  
The shock of being deceived, all over the world, is yet to sink in: how could such anti-people spyware be developed, exported, and bought by governments with public money, and then weaponized against our best voices? As the stories of the weaponization of these intrusions still unfold, below are a few ideas we are quite sure of:
There is no question of 'misuse' of spyware/ cyberweapons: such technologies are

designed

for repression. Produced and sold in the name of security, these technologies are systematically used for mass surveillance as well as targeted spying and decapacitation as has been publicly known since Edward Snowden's revelations on US

National Security Agency

.

It is no coincidence that Israel is the

market leader

and fountainhead of such military wares being sold to the world. Like the NSO Group, multiple Israeli cyberwares companies are founded and staffed by Israeli military forces' Unit 8200 that is responsible for cyberespionage. Like NSO, these companies work collaboratively with the Israeli Defence Ministry. Patronized by the Israeli apartheid state and part of its diplomacy, these companies critically assist the Israeli regimes' settler colonialism in the region. Why are Israeli weapons the market leader? The illegal occupation, apartheid and settler colonialism against Palestinians provides the perfect 'sample population' for the research, development, and 'field testing' of such technologies of subjugation, particularly cyberweapons, such as Pegasus.
The only possible response to the unanimity with which governments across the world are legitimizing the use of such weapons, is an international solidarity of peoples and grassroots struggles, particularly those targeted by such spyware because of their defence of human rights and for speaking truth to power. What we want is a complete halt, a global moratorium on the production and trade of such weapons, echoing the call that UN experts, human rights bodies, media institutions, scholars, and civil society groups from across the world have made.
It is time that we are able to see through the facade of 'security' to clearly see these weapons for what they are: tools of repression, whose only purpose is to silence peoples voices. We Must put an end to such weapons! 
In the past such efforts have ended police training exchange programs with Israel, pressured governments to end contracts with Israeli arms companies and brought together people's tribunals on Israel's aid to militarization in Latin America.  Only a global, intersectional struggle can put a halt to the proliferation of the indefensible spyware industry. 
Our struggles are connected and we stand stronger together.
Read the statement in Spanish here.
List of Signatories:
INDIVIDUALS:
| | |
| --- | --- |
| 1 | Abdul Mabood |
| 2 | Abhayraj Naik |
| 3 | Achin Vanaik |
| 4 | Adoor Gopalakrishnan |
| 5 | Alberto Daniel Teszkiewicz |
| 6 | Alfredo |
| 7 | Anat Matar |
| 8 | Andrew Ross |
| 9 | Anita Dighe |
| 10 | Anita Dighe |
| 11 | Anupama P |
| 12 | Aravinda p |
| 13 | Arun K Sinha |
| 14 | Arup Kumar Sen |
| 15 | Ashley Tellis |
| 16 | ashok sharma |
| 17 | Aslam Shibli |
| 18 | Atamjit Singh |
| 19 | Atua Naikwadi |
| 20 | Atul Gurtu |
| 21 | Avani Chokshi |
| 22 | Avinash Patil, MANS |
| 23 | Ayesha Samah |
| 24 | Beatriz Bissio |
| 25 | BIJU B L |
| 26 | Bill V. Mullen |
| 27 | Bolan Gangopadhyay |
| 28 | Chandrakant Patil |
| 29 | Chirag Shah |
| 30 | Cynthia Franklin |
| 31 | D.Narasimha Reddy |
| 32 | Damodar Mauzo |
| 33 | daniel capuccio |
| 34 | Debjani Sengupta |
| 35 | Devaki Khanna |
| 36 | Devdan Chaudhuri |
| 37 | Dilip Hota |
| 38 | Dipankar Mukhopadhyay |
| 39 | Dr Sylvia Karpagam |
| 40 | Dr. Mohan Rao |
| 41 | Éabha Rosenstock |
| 42 | Edith Breslauer |
| 43 | Fatema |
| 44 | Feliciano Castaño Villar |
| 45 | Felip Gascón |
| 46 | firoz |
| 47 | Gabriel Rosenstock |
| 48 | Gabriele Dietrich |
| 49 | Geeta Kapur |
| 50 | Geeta Seshu |
| 51 | George Mathen |
| 52 | Ghanshyam Shah |
| 53 | Gita Subramanian |
| 54 | Githa Hariharan |
| 55 | Goldy M George |
| 56 | Gopal S |
| 57 | Gunjan zutshi |
| 58 | Gurvinder singh |
| 59 | Hanita Carolin Hendelman |
| 60 | Harini Srinivasan |
| 61 | Harsh Mander |
| 62 | Hersh Sewak |
| 63 | Hiren Gandhi |
| 64 | Humayun Mursal |
| 65 | Humayun Mursal |
| 66 | Indira Chandrasekhar |
| 67 | Indranee Dutta |
| 68 | Indrapramit Das |
| 69 | Irene Abugattas |
| 70 | Jeroo Mulla |
| 71 | John King |
| 72 | Joyce Ajlouny |
| 73 | Jyothi A |
| 74 | K M Ashraf |
| 75 | K Satchidanandan |
| 76 | Kalpana Kannabiran |
| 77 | Kasturi Sen |
| 78 | Khaleelullah |
| 79 | Laxminarayana VN |
| 80 | Lmossayer mohamed |
| 81 | Luis |
| 82 | Madhu Bhaduri |
| 83 | Manavi Atri |
| 84 | Marcy Newman |
| 85 | N. Jayaram |
| 86 | Nandini Sundar |
| 87 | Nasir Tyabji |
| 88 | Navdeep Mathur |
| 89 | Neta Golan |
| 90 | Nisha Biswas |
| 91 | Nizamuddin |
| 92 | Ofer Neiman |
| 93 | Orijit Sen |
| 94 | Pamela Philipose |
| 95 | Ram Sharan Joshi |
| 96 | Ramana Murthy Ruakula |
| 97 | Ravi Shanker N |
| 98 | Rekha Awasthi |
| 99 | Richard |
| 100 | S Gurudutt |
| 101 | S. Durga Bhavani |
| 102 | Sagari Ramdas |
| 103 | Salim Yusufji |
| 104 | Samik Bandyopadhyayp |
| 105 | Santanu Chacraverti |
| 106 | Sharad Behar |
| 107 | Shaul Tcherikover |
| 108 | Shekar |
| 109 | Sigal Kook Avivi |
| 110 | Simona Sawhney |
| 111 | Sion Assidon |
| 112 | Sowmya Dechamma C C |
| 113 | Stephen Aberle |
| 114 | Stephen Aberle |
| 115 | Sumanta Banerjee |
| 116 | Sutanuka Ghosh |
| 117 | Suy Wong |
| 118 | Svati Joshi |
| 119 | Swathi Shivanand |
| 120 | Swati Goswami |
| 121 | Tali Shapiro |
| 122 | Tapan Kumar Bose |
| 123 | Tirthankar Mukherjee |
| 124 | Uma Chakravarti |
| 125 | Umaira banu |
| 126 | Vandana Srivastava |
| 127 | Veronica Dsouza |
| 128 | Vidya Dinker |
| 129 | Vijay Gudavarthy |
| 130 | Vinay Bharadwaj |
| 131 | Vinay Sreenivasa |
| 132 | Vinaya Malati Hari |
| 133 | Waqas Khwaja |
| 134 | Yousuf Saeed |
| 135 | Zaheer Ali Syed |
ORGANISATIONS:
| | |
| --- | --- |
| 136 | BDS France |
| 137 | BDS India |
| 138 | Boycott from Within (Israeli citizens for BDS) |
| 139 | Indian Social Action Forum (INSAF) |
| 140 | Indian Writers Forum |
| 141 | People's Union of Civil Liberties (PUCL-India) |
| 142 | Red de Integración Orgánica-RIO |
| 143 | Red de Solidaridad con Palestina – Costa Rica |
| 144 | Tierra Comun |
INDIVIDUALS ON BEHALF OF ORGANISATIONS:
| | | |
| --- | --- | --- |
| 145 | Ana Rosa Moreno | BDS México |
| 146 | Dr. A. I. Khan | Science For Society (SFS), Jharkhand |
| 147 | Edetaen Ojo | Media Rights Agenda |
| 148 | Farha shah | INSAF |
| 149 | Farida Nabourema | Togolese Civil League |
| 150 | Felipe Alvarado Diaz | Palestinalibre.org y La Otra Comunidad |
| 151 | German | Jovenes con Palestina |
| 152 | Javier Tolcachier | Centro de Estudios Humanistas de Córdoba |
| 153 | Joyce Ajlouny | American Friends Service Committee (Quakers) |
| 154 | Kavita Srivastava | PUCL |
| 155 | Magaly Navarrete Ramírez | Pressenza, International Press Agency |
| 156 | Nelsy Lizarazo | Pressenza, International Press Agency |
| 157 | Ravi Kiran Jain | PUCL |
| 158 | Sion Assidon | BDS Maroc |
| 159 | Suneet Chopra | All India Agricultural Workers Union |
| 160 | V Suresh | PUCL |
| 161 | Varghese Joseph | Indian social Action Forum -INSAF |