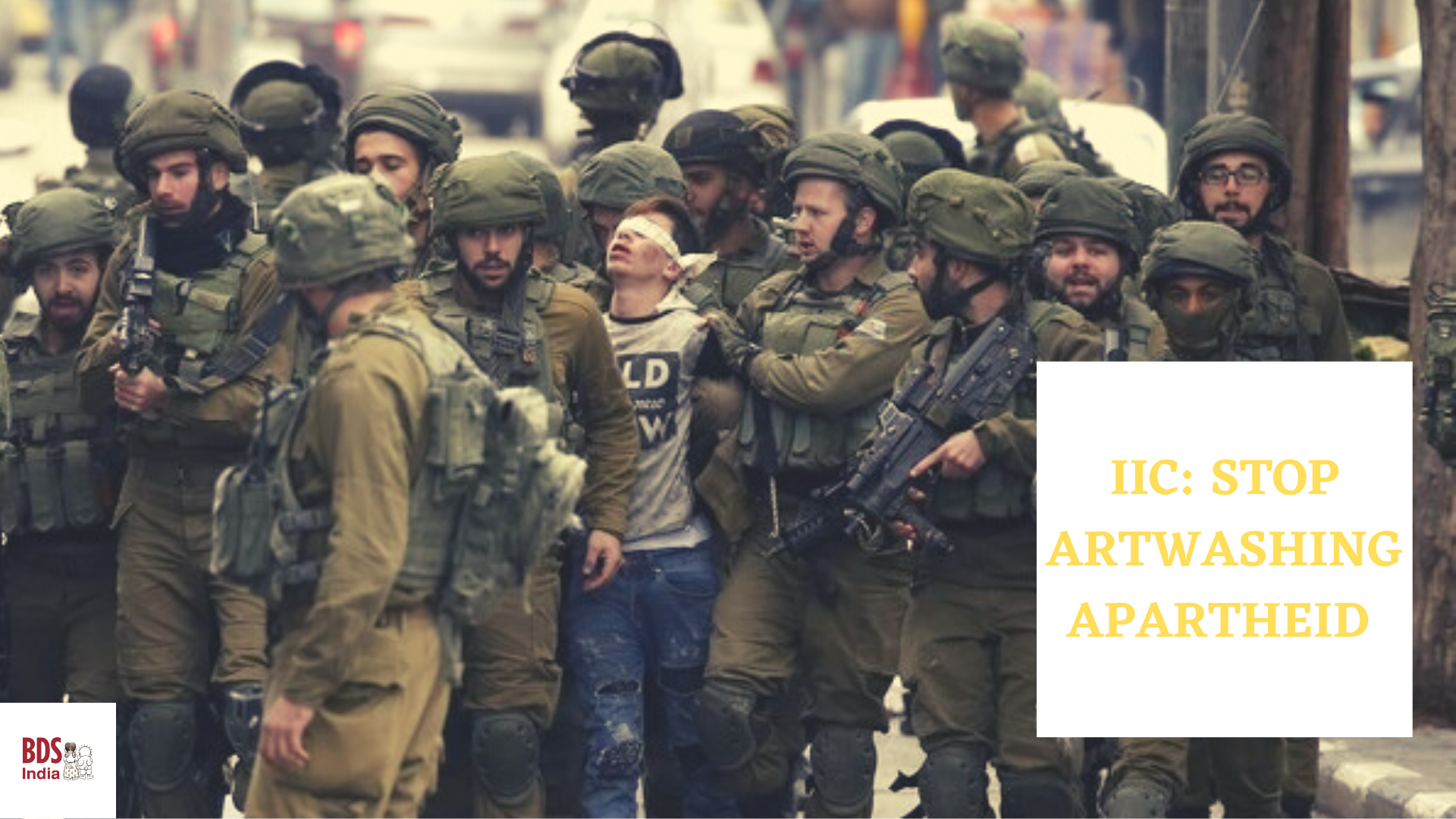 IIC: Stop Artwashing Apartheid
The Indian Campaign for the Academic and Cultural Boycott of Israel (InCACBI) joins Palestinian artists and civil society in appealing to the Film Club of India International Centre, an institution of repute with a liberal humanist outlook, to cancel its collaboration with apartheid Israel's embassy in Delhi in organizing its film festival.
There is growing consensus among leading international human rights organizations and figures, such as Israel's B'tselem Human Rights Watch and Amnesty International, UN Special Rapporteur Micheal Lynk, as well as former UN Secretary General Ban Ki-moon, that Israel's regime of oppression over Palestinians constitutes apartheid. Eleven former presidents and hundreds of MPs and civil society leaders from the global south have endorsed the call by Palestinian civil society to designate Israel as an apartheid state and impose on it targeted, proportional and lawful sanctions, such as a comprehensive military-security embargo.
Palestinians are still in shock and mourning following the killing of veteran journalist Shireen Abu Akleh by Israeli forces during a military raid in the Jenin refugee camp. Such wanton murder of Palestinians, including children and journalists, is but one policy of Israel's apartheid regime intended to instill fear, insecurity and utter hopelessness among the colonized community. Shireen is among scores of Palestinian journalists killed by Israeli forces in the line of duty, an act of violence amounting to a war crime. The people of India know what it means to live for decades under a brutal colonial rule.
This latest Israeli crime comes days before Palestinians commemorate on May 15th the 74th anniversary of the 1948 Palestinian Nakba (catastrophe), when Israel was established over the ruins of Palestinian society, after ethnically cleansing the land of more than 800,000 Indigenous Palestinians. More than 500 Palestinian villages and towns were destroyed during and after the Nakba.
The Nakba did not end in 1948, however. Israel is planning to expel over a thousand Palestinians from their homes and villages in Masafer Yatta in the occupied Palestinian territory. Sheikh Jarrah, Silwan and other neighbourhoods of occupied Jerusalem, as well as across the West Bank, have been facing home demolitions and threats of expulsion as well as brutal violence from Israeli forces and illegal settlers.
Just in the month of April, Israeli forces killed 19 Palestinians, including 3 women and 2 children; brutally assaulted Muslim-Palestinian worshippers and repeatedly desecrated the Al-Aqsa Mosque especially during Ramadan; restricted Christian-Palestinian access to the Church of the Holy Sepulchre during Easter; and bombed the Palestinian population of besieged Gaza.
Given this quick sample of life under Israeli apartheid, we are shocked that the India International Centre is providing its worthy platform to Israel, allowing it to artwash its regime of apartheid, settler colonialism and illegal occupation over the Palestinian people. Since 2004, Palestinian academics and artists have called for a boycott of apartheid Israel and its complicit institutions in the field of academia, art and culture, as these institutions are deeply implicated in maintaining and justifying Israel's regime of oppression and its grave human rights violations. Thousands of leading international writers, artists and cultural figures, including from India, have supported this ethical and principled form of nonviolent pressure.
Early this year, more than 20 acts pulled out of the prestigious Sydney festival over its sponsorship deal with the Israeli embassy. Over 200 queer filmmakers have pledged to not submit their films to the Israeli government-sponsored TLVFest. Zakir Hussain, Mira Nair, Ken Loach, the late John Berger are just some of the reputed artistic and cultural figures that support the institutional cultural boycott of Israel until it fully respects Palestinian human rights as stipulated in international law.
The IIC brochure states: 'In its programmes the Centre pursues values of a liberal humanism, which are today of universal significance. An expression of this vision is the Memorial Plaza, a beautiful space dedicated to Mahatma Gandhi and Dr. Martin Luther King'. Both Gandhiji and Dr. King shaped and led the tactics of principled boycotts against an unjust system, and both are key inspiring figures for the peaceful, Palestinian-led Boycott, Divestment and Sanctions (BDS) movement for Palestinian rights. Does the IIC partnership with the embassy of apartheid Israel conform to its stated values?
We call upon the IIC to respect the nonviolent Palestinian picket line, respect its own stated values and cancel this ongoing film festival in collaboration with Israeli embassy. We also urge you to not host any future programs with complicit Israeli institutions until apartheid is brought to an end. We would expect nothing less from a leading Indian cultural institution.
List of signatories:
| | | | |
| --- | --- | --- | --- |
| 1 | Aban Raza, Artist | 110 | Maura Hurley Basu |
| 2 | Abdulkarem Kasid, Poet | 111 | Michael Letwin, Labor for Palestine; Jews for Palestinian Right of Return |
| 3 | Abdullah | 112 | Midhun Puthupattu, Dastak, Delhi University |
| 4 | Abhi Chatterji | 113 | Moon |
| 5 | Abhijit Almeida | 114 | Muralidharan K |
| 6 | Abhik Bhattacharya, Ambedkar University Delhi | 115 | Musarrat |
| 7 | Achin Vanaik | 116 | Mushfiq Khan |
| 8 | Akram Mustafa | 117 | N Manu Chakravarthy |
| 9 | Ali Ahmed | 118 | N. Jayaram, Journalist |
| 10 | Almas Saeed, Jamia Millia Islamia | 119 | Nalini Nayak , Delhi University (Retd, Associate Professor) |
| 11 | Amaan | 120 | Nandini Nayak, Ambedkar University Delhi |
| 12 | Amar Jesani, Independent Consultant | 121 | Nandini Sundar, IIC Member |
| 13 | Amarjit Chandan, Writer | 122 | Naresh Dadhich , IUCAA |
| 14 | Amber Habib | 123 | Nasir Tyabji , Retired Academic |
| 15 | Amir Rizvi | 124 | Navsharan Singh, Independent researcher |
| 16 | Anand Patwardhan | 125 | Neeta Ratwani |
| 17 | Anand Ram-mohan Kundaji | 126 | Nick Griffin |
| 18 | Ananya Mehta | 127 | Nina Rawal |
| 19 | Ania Loomba , Professor | 128 | Nisheetha, Artist |
| 20 | Anindita Rawat | 129 | Nishtha Jain, Filmmaker |
| 21 | Anirban Bhattacharya, CFA | 130 | Nivedita Menon, Jawaharlal Nehru University |
| 22 | Anish Radhakrishnan, NewsClick | 131 | Oishik Sircar , Jindal Global Law School |
| 23 | Anjali Monteiro , Filmmaker and academician | 132 | Orijit Sen, Independent artist |
| 24 | Anjum Rajabali | 133 | Padmaja Shaw |
| 25 | Anmol Vellani, Theatre | 134 | Pamela PhiliposeIndependent journalist |
| 26 | Anu Chenoy | 135 | Parvez kaulBusiness |
| 27 | Aranya | 136 | Persis Ginwalla |
| 28 | Artists for Palestine UK | 137 | Prabhat Patnaik, Jawaharlal Nehru University |
| 29 | Arundhati | 138 | Prasad Chacko, Consultant (Inclusive Development Programming) |
| 30 | Arup Kumar Sen, Serampore College | 139 | prasad chandana, Revolutionary Writers Association |
| 31 | Asad zaidi, Writer | 140 | Praveen Vadhera |
| 32 | Asha Gopinathan, IIC- Associate Member | 141 | Priyamvada |
| 33 | Ashok Maridas, Samvidhanada Haadiyalli | 142 | Probir Dasgupta |
| 34 | Ashwin Baindur | 143 | Prof Nasir Tyabji, Retired Academic |
| 35 | Asit bagchi | 144 | Prof.Mohan Rao, Independent researcher |
| 36 | Audrick | 145 | Purbasha |
| 37 | Ayesha Kidwai, Jawaharlal Nehru University | 146 | Pushpamala N, Independent artist |
| 38 | Berrier, EEA | 147 | Raghunandana, Kannada poet, playwright, stage-director |
| 39 | Berrier Arthur, Edu | 148 | Rahul Roy, Indian Statistical Institute |
| 40 | Biswarup | 149 | Rai |
| 41 | Bodhisattwa Maity | 150 | Rajni Palriwala, IIC member |
| 42 | Bolan Gangopadhyay, Social Activist & Freelance Journalist | 151 | Raju Bhai |
| 43 | Brahma Prakash, Jawaharlal Nehru University | 152 | Rakesh Khanna, Blaft Publications |
| 44 | C P Geevan , Independent Researcher | 153 | Ram RahmanPhotographer |
| 45 | C S R prasad | 154 | Ramneek Singh, Playwright and Theatre Director |
| 46 | Candace Martin | 155 | Ranjan Solomon , Badayl |
| 47 | Chakradhar Rao Konatham, All-India Forum for Right to Education | 156 | Ravi |
| 48 | Darren Ell | 157 | Reginald Goveas |
| 49 | Deepa | 158 | Renu Ramanath |
| 50 | Deepti Negi | 159 | Ritu Menon , Writer and Publisher |
| 51 | Devaki Khanna | 160 | Robert Rizzuto |
| 52 | Devanshi, Brunel University | 161 | Rounak Layek |
| 53 | Devina Dutt | 162 | Rudy Stevens |
| 54 | Diana, Pro peace | 163 | Sachidanand Sinha, Jawaharlal Nehru University |
| 55 | Dinesh Kothari, Banyan Tree | 164 | Sakib Ahammad |
| 56 | Dr. P. A. Azeez | 165 | Salim |
| 57 | Dr. M. A. Haque, Retired author and writer | 166 | Salim Yusufji |
| 58 | Dr. Shakeel , Indian Doctors for Peace and Development | 167 | Samarin |
| 59 | Dulali Nag | 168 | Samir Eskanda , Musician |
| 60 | Ekramul Haque | 169 | Sanchita Dasgupta , Designer |
| 61 | Elias kazmi | 170 | Sania Hashmi, Anhad Films |
| 62 | Enakshi Nandi | 171 | Sayandeb Chowdhury, Ambedkar University Delhi |
| 63 | Eshita Ghosh | 172 | Shaah Ramiz Raza |
| 64 | Fahad | 173 | Shafey kidwai, Aligarh Muslim University |
| 65 | Faiz Syed | 174 | Shamsudhin Moosa |
| 66 | Farida Abdulla Khan, Independent researcher | 175 | Sharad Behar |
| 67 | Firoz | 176 | Shaswati Sarbagna |
| 68 | Freny Manecksha, Independent journalist | 177 | Shaunak M |
| 69 | Gangadharan Menon | 178 | Sherna |
| 70 | Gareth Evans, Whitechapel Gallery | 179 | Shivani Nag, Ambedkar University Delhi |
| 71 | Gargi Sen, Filmmaker | 180 | Signed |
| 72 | Garreth D'Mello | 181 | Simon Caplan |
| 73 | Geeta Kapur, Independent Critic and Curator | 182 | Simon Vrouwe |
| 74 | Geeta Seshu, Journalist | 183 | Simona Sawhney |
| 75 | Githa Hariharan , Writer | 184 | SIRAJKHAN GHAURI |
| 76 | Guna Kalita | 185 | SK Das |
| 77 | Gurpreet Sidhu | 186 | Smita C |
| 78 | Hamza Shaikh | 187 | Snigdha |
| 79 | Indu Chandrasekhar, Tulika Books | 188 | Sohail Hashmi |
| 80 | Ita Mehrotra, Artist | 189 | Sonia Nepram, Independent Filmmaker |
| 81 | J G Krishnayya, Retired Director, Systems Research Institute | 190 | SrabaniCommunist Party of India (Marxist) |
| 82 | Jagarat Chand, Sound Recordist | 191 | Subhashini ali |
| 83 | Jameela | 192 | Sudeshna Banerjee, Independent researcher and editor |
| 84 | Jeroo Mulla, Sophia Polytechnic | 193 | Sudhanva Deshpande , LeftWord Books |
| 85 | John Dayal IIC Member, Writer | 194 | Suhas Kolhekar |
| 86 | Jyoti Ranjan | 195 | Suhasini Mulay, Associate Member, IIC |
| 87 | K Chandy Mathew | 196 | Sumit, Independent filmmaker |
| 88 | K. Padma, Advocate | 197 | Suneet Chopra, Art Critic and Writer |
| 89 | K.J. Cleetus, IIC Member and Retired Academic | 198 | Supriyo Sarkar |
| 90 | Kaif Mahmood, Psychotherapist | 199 | Susan Ram, Writer, editor, journalist |
| 91 | Kajal Basu , Journalist | 200 | Suvir Kaul |
| 92 | Kasturi Sen, Public Health Researcher | 201 | Swarnangshu Shekhar, Lawyer |
| 93 | Kavita Srivastava | 202 | Tanima das |
| 94 | Keval Arora, Delhi University | 203 | Taposik Banerjee , Ambedkar University Delhi |
| 95 | Khalid Shaikh | 204 | Tarun Bhartiya, Raiot Collective |
| 96 | Kiran Tando , IIC member | 205 | Uzramma, Independent researcher |
| 97 | Komita, Jana Natya Manch | 206 | Varsha Nair |
| 98 | Krish | 207 | Vasundhara Jairath |
| 99 | Lolita Sengupta | 208 | Veena Chalam |
| 100 | Lourd Joséph | 209 | Vidya Kesavan |
| 101 | M Vanker, IT SA | 210 | Vijay Badami |
| 102 | Madhu Bhaduri | 211 | Vikas Rawal, JNU |
| 103 | Maggie Dodson | 212 | Vivan Sundaram, Independent artist |
| 104 | Mahnoor | 213 | Viveka Chattopadhyay |
| 105 | Mallika Taneja, Artist | 214 | Waseem Ahmad |
| 106 | Mandira Sen, Director, Stree Samya | 215 | Yousuf Saeed, Independent filmmaker |
| 107 | Marcy Newman | 216 | Zaef |
| 108 | Martin Meenan | 217 | Zainab |
| 109 | Mary M, Collectif Urgence Palestine-VD | 218 | Zita D'Souza |