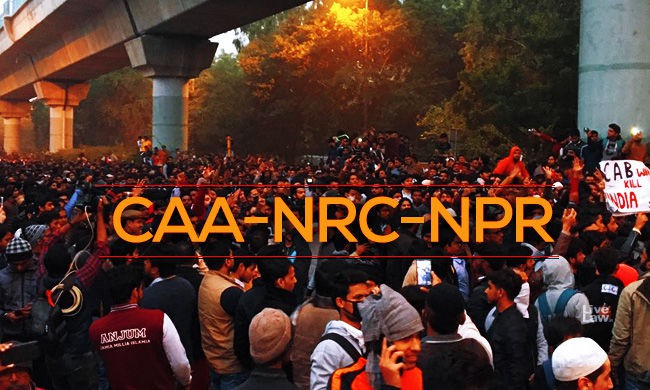 To
The Hon'ble President of India,
Shri Ram Nath Kovind Rashtrapati Bhavan
New Delhi India
Hon'ble Sir,
SUBJECT: REPEAL OF THE CITIZENS AMENDMENT ACT-NATIONAL POPULATION REGISTER-NATIONAL REGISTER OF CITIZENS (CAA-NPR-NRC)
As you are aware, the CAA-NPR-NRC project of the government of India has been deeply problematic since it was first proposed and rushed through the Parliament. In fact, starting in Shaheen Bagh area of New Delhi in late 2019, protests against it rose spontaneously in over 100 neighbourhood sites across the nation, and indeed the globe. These protests articulated the Constitutional right of every citizen of India to be treated as an equal irrespective of caste, gender, religion, region, ethnicity, etc. Although the protests were withdrawn or forcibly shut down following the Coronavirus pandemic, the peoples' demand for the withdrawal has remained as steadfast as ever.
This year, marking the occasion of 2 years of the protest at Shaheen Bagh, citizens across caste, religion, creed and gender came together at more than 25 sites across the country to reiterate our plea for the repeal of CAA-NPR-NRC. Many district and state level officials across the country have received memorandums to this effect as well.
In addition, about 1200 citizens ranging from farmers to retired defence personnel, housemakers to academics and artists, senior retired bureaucrats to civil society activists, doctors, lawyers and journalists, not to mention hundeds of women, students, civil rights and democratic rights organisations have endorsed the following statement seeking your intervention for the repeal of the CAA-NPR-NRC programme immediately.
Signatories include:
Eminent citizens such as: Annie Raja, Mariam Dhawale, Shabnam Hashmi, Hasina Khan, Admiral Retd. Laxminarayan Ramdas, Cedric Prakash, Nandita Haksar, Poonam Kaushik, Lalita Ramdas, Kavita Srivastava, Anjali Bharadwaj, Meera Sanghamitra, Dr Indu Prakash Singh, Tapan Bose, Ghanshyam Shah, Javed Anand, Kalyani Menon Sen, Maimoona Mollah, Rajni Palriwala, Sandeep Pandey, Shuddhabrata Sengupta, Yousuf Saeed, S P Udayakumar, Mallika Sarabhai, Maya Krishna Rao, Vikram Iyengar, Rumi Harish
Eminent academics such as: Uma Chakravarti, Roop Rekha Verma, Dr Anita Rampal, Prof. Nandita Narain, Dr Nivedita Menon, Jayati Ghosh, Prof. Mohan Rao, KP Jayasankar
Women's groups such as: NFIW, AIDWA, Bebaak Collective, Pragatisheel Mahila Sanghathan, Saheli, Women Against Sexual Violence and State Repression, Forum Against Oppression of Women, All India Mahila Sanskritik Sangathan (AIMSS), Indian Christian Women's Movement, Progressive Organisation of Women, Savitribai Phule Gender Resource Centre, Amoomat Society, Uttarakhand Mahila Manch, Feminists in Resistance
Other civil society networks and organisations such as: ANHAD, Satark Nagrik Sanghathan, Peoples' Union for Civil Liberties, National Alliance of Peoples' Movements, Indian Muslims for Secular Democracy, National Platform for the Rights of the Disabled, Minority Rights Watch, Tamilnadu Muslim Munnetra Kazhagam, Indian Federation of Trade Unions, Bhagat Singh Ambedkar Students Organization JNU, Haryana Gyan Vigyan Samiti, Association for Democratic Rights Punjab, Makaam, Migrant Workers Solidarity Network Bangalore, Trade Union Centre of India, All India Students Association, All India Kisan Mazdoor Sabha, AIKMS, Muslim Margdarshak Mandal, DASAM, New Trade Union Initiative, Swaraj India, All India United Trade Union Centre (AIUTUC), Delhi Science Forum, All India Seventh-day Adventist Welfare Association, Democratic Teachers Federation, Bharat Gyan Vigyan Samiti, Jan Swasthya Abhiyan, Swaraj Abhiyan, Delhi Union of Journalists, Alternative Law Forum, All India Kisan Sangathan, Radio Quarantine Kolkata, Azad Foundation, Platform For Social Justice, The Other Media, Citizens Forum for Mangalore Development, All India Peace Mission, Forum for Democracy and Communal Amity, Sanjhi Duniya, and so on.
THE STATEMENT & COMPLETE LIST OF ENDORSEMENTS
PresidentofIndia_Repeal-CAA-NPR-NRC