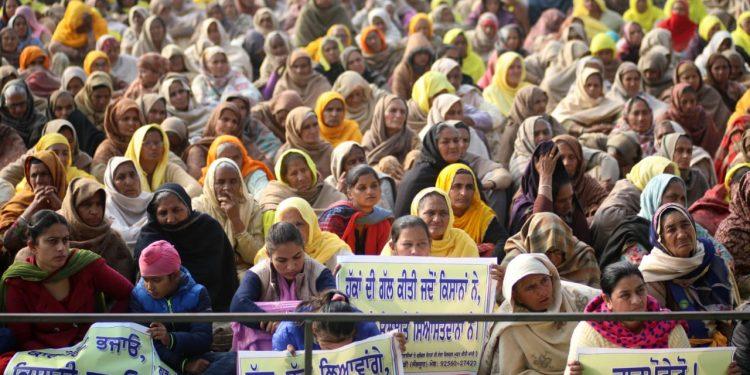 As feminists and women's rights groups, we stand in support of the farmers' movement to repeal the draconian farm laws passed by the Central Government, the implementation of which now stand stayed by the Supreme Court of India. We salute our sisters, the women farmers who have led the struggle against the three laws that must be repealed—The Farmers' Produce Trade and Commerce (Promotion and Facilitation) Act, 2020, The Farmers (Empowerment and Protection) Agreement of Price Assurance and Farm Services Act, 2020 and The Essential Commodities (Amendment) Act, 2020.
Women farmers have been firmly in the leadership of this struggle, just as much as they lead the process of agriculture itself and bear the burden of crushing farm debts, suicides, shrinking incomes, and ecological disaster that the agrarian crisis has produced. Be it driving tractors to the borders of Delhi, or organising the protest sites, or being the faces of a powerful protest for over two months in the winter cold, braving state repression and state-sponsored negation of women's participation and contribution to agriculture, women have been indomitable.
Through their inspiring determination, our sisters have staked a claim to the farmers' movement as a historicised, gender-specific struggle, as women farmers are neither allowed to own land nor acknowledged for their labour in law or policy. Buttressed by the exclusion fostered by predatory neoliberal capitalism, a masculinist framework of agriculture renders women farmers invisible as citizens of a constitutional democracy, reducing them merely to belongings that must be dispatched home. For women farmers, participation in this struggle is not an option from which they may exit, it is a matter of their bare survival. They argue that just as the draconian labour codes do not recognise domestic workers as workers, these farm laws imperil their very existence, by multiplying their vulnerability manifold as they have neither access to, claim institutional credit nor farming subsidies.
The Census 2011 shows that 65.1% women workers work in agriculture either as cultivators or labourers, while the PLFS (2017-2018) shows that 73% of all the rural female workers are agriculturists. These laws will impact small, marginal and women farmers the worst. The dismantling of the APMC will mean that farmers will not be able to negotiate prices. The laws in redefining the trade area outside the mandi pushes the entry of big corporations and a pernicious eco-system which will deny access, mobility and equality to women farmers, cultivators, tenants and agricultural labourers. These laws propose to de-regulate food supply systems and invite big corporates into the grain trade. Women farmers are also fighting for food security for the Essential Commodities Act 2020 proposes that cereals, pulses, and potatoes should be removed from the list of essential commodities. The contract farming envisaged under these laws would be that women dependent on small or marginal holdings, either as direct cultivators or tenants would be highly disadvantaged in negotiating contracts be this knowledge, power or market acuity. Shockingly, farmers or anyone representing them will also not have any recourse to the jurisdiction of appellate courts to challenge contracts that dupe them or force them into landlessness and penury.
We join our voices to those of our protesting sisters, in their fierce and public proclamation of women farmers' rights as equal citizens, who have the right to welfare, the right to livelihood, the right to protest injustice, and the right not to be erased from the processes of making law and policy.
We want the government to know that:
We, the women of India, stand with women farmers to repeal the draconian farm laws.
We, the women of India, stand with Dalit and Adivasi landless women farmers for their rights over common land and resources.
We, the women of India, stand for a constitutional democracy for women, by women and as women.
We, the women of India, stand with all political prisoners and human rights defenders.
We, the women of India, will defend our right to life, liberty, equality, privacy, and protest.
We, the women of India, will speak, protest, dissent against every injustice, every draconian law, every pogrom.
We, the women of India, will speak truth to power.
In solidarity with women farmers at the borders of Delhi, the undersigned pledge their support:
Aanchal Kapur,

Aarthi M

Abhijit Roy, Jadavpur University

Aditi, IIIT- Hyderabad

Aditi Thakur, Research scholar, Tata Institute of Social Sciences

Ajita, WSS

Akansha, Mumbai University

Akhila,

Amala Dasarathi,

Ambika, Freelance legal editor

Amita, Advocate

Amita Pitre,

Ammu Abraham, Forum Against Oppression of Women, People's Union for Civil Liberties Maharashtra

Amol Kerkar, Stree Mukti Sanghatana

Amrita Chhachhi,

Amrita Johri, SNS

Anamika Haksar, Theatre film director

Anand K Sahay, Media

Anandhi, Researcher

Anchita Ghatak, Maitree

Angana Prasad,

Angelie Multani,

Ania Loomba, Progressive India collective

Anikhit Mangrati,

Anita Cheria, OpenSpace

Anita Cherian, Ambedkar University Delhi

Anita Kapoor,

Anita Rego, Consultant

Anitha C T,

Anjali,

Anjali,

Anjali Bhardwaj, SNS

Ankit Chettri,

Ankita Mukherji,

Annie Koshi,

Annie Namala, WNTA

Annie Raja, National Federation of Indian Women

Anomita Sen,

Antara Dev Sen, Journalist

Anu Verma,

Anupama Roy, Jawaharlal Nehru University

Anuradha,

Anuradha GR, Dwarka Women's Collective

Anusha Khan, Documentary filmmaker

Anwesh Bhattacharya, ESPCI Paris

Aparajita mathew, student

Aparna Mahiyaria, Indian Cultural Forum

Apoorva Bakshi, Producers Guild

Apurva Vivek, Jharkhand High Court

Archana Prasad

Archana Kaul, Srijanatmak Manushi Sanstha

Areet Kaur,

Aritry Das

Arjun Raina

Arpita Chakrabarty

Arun Kumar

Aruna Burte

Aruna Gnanadason, National Convener Indian Christian Women's Movement

Arundati, Designer

Arundhati Dhuru, National Convenor National Alliance of People's Movements

Arunima G, Kerala Council for Historical Research

Ashalatha S, Makaam

Ashima Roy Chowdhury, Saheli Women's Resource Center, New Delhi

Ashwini and Mariya, Zariya: Women's Alliance for Dignity and Equality

Atul Sood, Jawaharlal Nehru University

Avantika Srivastava

Avni Sejpal, Progressive India Collective

Ayesha Kidwai, Jawaharlal Nehru University

Ayush

Basanti, Uttarakhand Mahila Manch

Beena Pallical, NCDHR

Bela Bhatia

Bharti Ali, HAQ: Centre for Child Rights

Bhaswati Chakravorty

Bhaswati Sarmah

Bhoomika Prakash Garud

Bishakha Bhanja

Bittu K R, WSS

Brinda Adige, ICWM

Chandrasmita Choudhuri, All India Progressive Women's Association

Chayanika Shah, Forum Against Oppression of Women, Mumbai

Chhaya Datar

Chhitra Subramaniam

Chinmayee

Dayana Mary, Dayana Mary

Debdeep Chatterjee, Concordia UniversityMontreal

Debjani Bhattacharya,

Deblina, O.P. Jindal Global University

Deepa, Delhi

Deshdeep Dhankhar, Student activist

Dev Desai, Anhad

Diamond Oberoi, university academic

Dimple Oberoi Vahali

Dipannita Saha

Dipika Jagatram Sahani

Divyani Motla, University of Toronto

Dr Subhan Khan, Patron Mewat Development Society

Kaustav Banerjee, Ambedkar University Delhi

Ruth Manorama, National Federation of Dalit Women

Sukanya Kanarally

Sushi Kadanakuppe

Sylvia Karpagam, Public health doctor

Mohan Rao, Researcher, Bangalore

Dwaraka Pandurangi

E Rati Rao, All India Progressive Women's Association

Ein Lall

Esther

Esther Chandy

Faraz Ahmad, Freelance journalist

Farida Khan,

Feminists in Resistance, Kolkata,

Frans Manjali, Jawaharlal Nehru University

Gabriele Dietrich, National Alliance of People's Movements

Gauri Sathe

Gayatri Sinha

Gazala Azad

Geeta Mahajan, National Federation of Indian Women

Geeta Ramaseshan

Geeta Seshu, Journalist, Mumbai

Girija, Activist

Girija Gupte

Githa Hariharan, Indian Cultural Forum

Govind Kelkar

Gudiya, Activist

Guriya Singh

Gurjeet Kaur

Gurpreet Kaur, Researcher

Harpreet Kaur

Harsh Mander

Hasina Khan, women activist

Helen Saldanha

Ila Dalwai

Indrani Mukherjee, Jawaharlal Nehru University

indu prakash singh, CityMakers Mission International

Jahnvi Andharia

Janani

Jarjum Ete, All India Union of Forest Working People

Jashodhara Dasgupta

Jaya Iyer, Mridha

Jaya Menon, SNU

Jaya Sagade

Jayanta Dwibedi

Jayanti Mankodi

Jayati Ghosh, University of Massachusetts at Amherst

Jenny Jose

Jenny Shabnam

Jhansi Rani, Slum Mahila Sanghatane

Jinee Lokaneeta

Johanna Lokhande

Jooneed Jeeroburkhan, Human Rights Activist

Julia George, Lawyer

K Uma

Chamaraj

Sajaya, Women and Transgender Organisations JACC

Kabi, Forum Against Oppression of Women

Kalpana

Kalpana Viswanath

Kamayani Bali Mahabal, Punjab Women Collective

Kamini Tankha

Kamla Bhasin, Freelance

Karen Gabriel, Delhi University

Karen Joan Ribeiro

Kaveri Bharath

Kavita Krishnan, All India Progressive Women's Association

Kavita Srivastava, People's Union for Civil Liberties

Keshto

Keval Arora, Delhi University

Khushboo Jain

Koel Chatterji, Feminists in Resistance

Komal Mohite, McGill University

KP Singh

Kumkum Roy

Kumud Chaudhary

Kusum, All India Network of Sex Workers

Lakshmi, Quintiles

Lakshmi krishnamurty,

Lamin Bomzon

Lara Jesani, People's Union for Civil Liberties

Lata Pratibha Madhukar, Bahujan Sanvad

Lata Singh, Jawaharlal Nehru University, New Delhi

Lawrence

Leena Dabiru

Leila Passah

Lekha Bhagat, Ceramist

Lisa Thomas, O P Jindal University

Mandakini

Madhavi

Madhavi Menon

Madhu Bhushan, Gamana Mahila Samuha

Madhu Sahni, Jawaharlal Nehru Unversity

Madhusree Dutta, Filmmaker, author

Maimoona Mollah

Maini Mahanta, Editor, Nandini Pratibimb group of publications, Guwahati, Assam

Malarvizhi

Malika Virdi, Uttarakhand Mahila Manch

Mallarika Sinha Roy, Jawaharlal Nehru University

Mallika Prasad, Actors Ensemble India Forum

Mamta Singh, Social Activist

Manavi

Manidipa Sen, Jawaharlal Nehru University

Manisaha Majumdar, Student

Manisha Gupte, Feminist Activist

Manisha Pradhan, Salesian College Siliguri

Manisha Thami

Marcia DCunha, ICWM

Margaret Gonsalves

Mary, Research scholar

Mary John, Women's Studies

Maya Krishna Rao, Theatre Artist

Meena Saraswathi Seshu

Meenakshi Shedde

Meenakshi Sundriyal

Meghna Dasgupta

Meghna Mehra, All India Queer Association

Mercy V Guite, Jawaharlal Nehru University

Migita D'cruz, Psychiatrist

Miloon Kothari, Former Special Rapporteur, UN Human Rights Council

Minakshi Singh, Unity in Christ

Mini Bedi

Miriam Joseph

Miriam Paul

Misuni

Mohd Abuzar, Anhad

Molshri Ezekiel

Monika, Research scholar

Monisha Behal

Moushumi Basu, Jawaharlal Nehru University

Mridula Mukherjee, Jawaharlal Nehru University

Mukta Srivastava, Right to Food campaign

Nalini Nayak, Protsahan

Nancy Girdhar

Nandini Sundar, sociologist

Nandini Nayak

Nandini Rao

Nandita G. Xavier, Gramaantara

Nandita Gandhi

Nandita Narain, Delhi University

Navaneetha Mokkil, Jawaharlal Nehru University

Navnita Behera

Navrose, National Alliance of People's Movements & Ambedkar University

Navsharan Singh

Nayana V, Jawaharlal Nehru University

Nazneen Shaikh, Dr.Babasaheb Ambedkar Seva Bhavi Sanstha.Dhule

Neelakshi Suryanarayan, Delhi University

Neelanjana Mukhia

Neema Chaurasiya, university of Delhi

Neha Sood

Neha Vyas, Artist

Nidhi Gulati, Delhi University

Nikita Prasad, Student

Nilanjana Sengupta,

Nilanju Dutta, Activist

Nina Rao, Delhi University

Niranjani Iyer

Nirmala Rebello

Nisha Biswas

Nisha Verma, National Vice President at Kisaan Manch

Niti Saxena

Nivedita Menon, Jawaharlal Nehru University

Noella De Souza, Satyashodak, Indian Christian Women's Movement.

A.Devi, Cultural activist

Padma Rani

Pallabi Chakravorty, Progressive India Collective

Pamela Philipose

Pankti

Parnal Chirmuley, Jawaharlal Nehru University

Parull Gossain

Payoshni Mitra

Ponnuthai, Kalanjium Women farmers Association

Poonam Kaushik, Pragatisheel Mahila Sangathan Delhi

Prabha Pandey

Praditya Lama

Prakhya CV

Pranamika Saikia, Manab Adhikaar Sangraam Samiti, Jorhat, Assam

Prasanthi, Activist

Pratiksha Baxi, Jawaharlal Nehru University

Pratikshya Mishra

Praveen Kolluguri, International Solidarity for Academic Freedom In India

Priya

Priyaleen, Conservation architect

Priyanka Samy

Priyanka Singh

Pushpa S, Swaraj Abhiyan/ Social Activist

Meera, MAKKAM

Ramani

Rachana Mudraboyina, Transgender rights activist

Radha Ramesh, Director

Rahul Roy, Indian Statistical Institute

Rahul Varma, Teesri Duniya Theatre, Montreal

Rajarajeshwari ಜೋಶಿ3

Rajashri Dasgupta

Rajshri

Rakhi Sehgal, Labour researcher and activist, Delhi

Ramesh Dixit, President Samvidhan Bachao Desh Bachao Abhiyan Uttar Pradesh

Ramlath Kavil,

Ranjana Padhi, Feminist activist

Ranjita Biswas, Psychiatrist and queer feminist activist

Rashida Paghdiwala

Ratna, Associate Professor

Ratnam Rosemary

Reena Mohan

Rekha

Rekha Rajan, Jawaharlal Nehru University

Rekha Rautela, Uttarakhand Mahila Manch

Richa Garg

Riddhi Dastidar, Khabar Lahariya

Rita Manchanda, South Asia Forum for Human Rights

Roop Rekha Verma, Saajhi Duniya

Rosemary Ratnam

Roshmi Goswami, Feminist human rights activist

Ruchi Kapoor

Rukaiya

Rukshana Tabassum

Rumi Harish, Alternative law 6

Rupal Oza

Rupali Francesca Samuel, Women in Criminal Law Association

Rupsa Mallik

Sabala

Sadaf Jafar, INC

Sadiya Shaikh, Activist

Saeesh Mangwani, McGill University

Sagarika Ghatak

Saheli women's resource centre, New Delhi,

Samden Tshering Tamang

Sancia Sequeira

Sandesh Gaikwad, Activist

Sandhya Gokhale, Forum Against Oppression of Women

Sandhya Panaskar, Activist

Sangeeta Gandhe, Writer

Sangeeta Rege, Health researcher

Sanghmitra, Ambedkar University Delhi

Sania Hashmi, Anhad Films

Sanjana Shajan, Academic

Sanjida Arora, CEHAT

Sannuthi

Sanskriti Rajkhowa, Jawaharlal Nehru University

Sargam Sharma, Student

Sarojini Nadimpally, Jan Swasthya Abhiyan

Sasi Kumar, Climate Kerala

Saswati Ghosh, City College, Kolkata

Saumya Baijal

Savita

Seema Kulkarni

Sehba Farooqui, Political activist

Sehjo Singh

Sejal, Woman's rights activist

Sejal Anand Dand, Anna Surakha Adhikar Abhiyan Gujarat

Shabnam Hashmi, Anhad

Shalmali Guttal, Focus on the Global South

Shambhavi Prakash, Jawaharlal Nehru University

Shameera Ashroff

Shantha Sinha

Sharda Mohan Wadekar, Mahatma Phule Samata Pratishstan Pune

Sharifa Siddiqui

Sharonee

Shashi Kala Saroj, Jawaharlal Nehru University

Sheba Chhachhi

Sheba George, Social work

Sheelu Francis, Women's Collective

Sherna Dastur

Shevanti Narayan

Shewli Kumar, Tata Institute of Social Sciences

Shillpi A Singh, Dwarka Women's Collective

Shivakimari

Shivananda R.S

Shivani Bhardwaj

Shraddha

Shreya Singh

Shruti Chettri, Salesian College Sonada

Shruti Sharma

Shubhangi, Human rights lawyer

Shukla Sawant, Jawaharlal Nehru University, New Delhi

Simona Sawhney

Sister Latifa, Movement for Justice

Smita Gupta, Activist and Economist

Sneh Gurung

Soma Marik, RKSM Vivekananda Vidya Bhavan

Sonali Biswas, Shramajibi Mahila Mancha, AITUC, West Bengal

Sonia Kidwai

Sreekala MG

Sridevi

Sriparna Das

Srirupa Roy

Stree Jagruti Samiti

Subha Mukherji, University of Cambridge

Subhash Lomte, Hind Majdoor Sabha / jai Kisan Andolan – Swaraj Abhiyan

Subuhi Jiwani

Sucharita Sen, Jawaharlal Nehru University

Sucheta, Jawaharlal Nehru University

Sudha

Sudha Goparaju, Activist

Sudha N

Sudha Rani

Sujata, Forum Against Oppression of Women

Sujata Patel, Savitribai Phule Pune University

Sujata Raghavan

Sumitra, Advocate

Suneeta Dhar, Activist

Sunil Kumar Aledia, National Forum for Homeless Housing Rights-NFHHR

Sunila Singh

Sunita Sheel

Supriya Chaudhuri, Jadavpur University

Supriya Jan, Right to Pee campaign Mumbai

Suraj Pawar, Student

Susan Visvanathan, Jawaharlal Nehru University, New Delhi

Sushama, Sampark Samiti Pune

Sushma Veerappa

Sushms, ICWM

Sutanuka Ghosh, Jadavpur University

Svati Joshi, Delhi University

Swati Birla, Thane

Swatija, Forum Against Oppression of Women

Sweta Dash

Sweta Singh, Guru Gobind Singh Indraprastha University

Syeda Hameed

Tallulah D'Silva, Architect

Tara bai Marathe

Taranjit Kaur

Tarik Monowar, Mirik College

Tehzeeb Khurana

Teresa Kotturan, Sisters of Charity Federation

Uma Bhrugubanda, EFL University, Hyderabad

Uma Shankari

Uma V Chandru, Bangalore

Usha Seethalakshmi

Sujatha, Jawaharlal Nehru University

Vahida Nainar

Vandana Kulkarni

Vanita Mukherjee

Varini G

Varna Sri Raman

Vasudha Nagaraj, Advocate

Veena

Vibha Deshpande

Vibhuti Patel, Retired academic

Vimala Morthala, Activist

Vimala R

Vinata Nanda, The Daily Eye

Vineeta Bal, Academic, Pune

Vinod Raja, Film maker

Vinyasa

Vrinda Grover, Lawyer