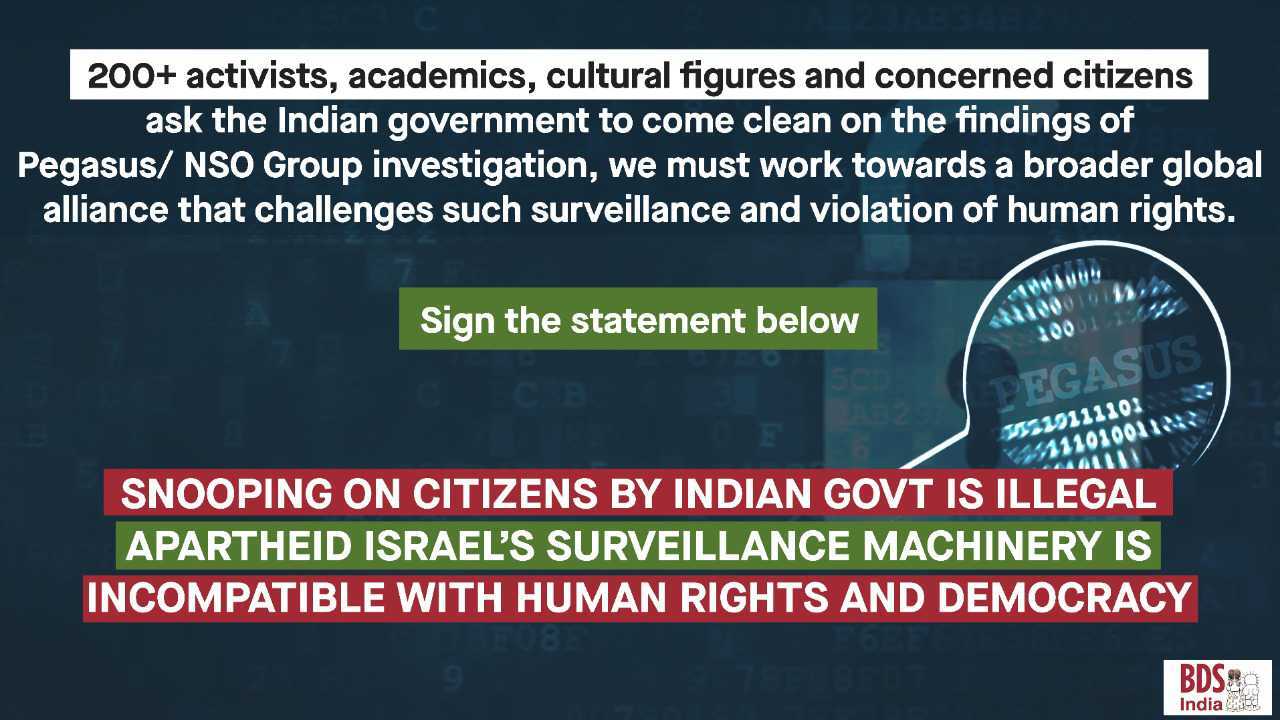 Partnering with Apartheid: Pegasus Snooping in India
More names of targets – journalists, opposition leaders, even a leading virologist– are still being unearthed as part of the massive reveal regarding the use of Israeli NSO Group's Pegasus spyware on the smartphones of Indian citizens. Pegasus spyware and the NSO Group itself are part of the matrix of Israel's apartheid and occupation and are only the latest import of repressive paradigms and methods that our government has imported from Israel.
Amnesty International and Forbidden Stories, a Paris based non-profit were able to access a leak of phone numbers selected as actual and potential targets, which they passed on to Pegasus project- a collaborative investigation by media houses into the NSO Group and its clients. India is one among 10 such clients. NSO Group works closely with the Israeli state, which approves every sale of the company's spyware, while the company itself claims to sell its products only to "vetted governments".
This is in addition to the reveal late in 2019 by WhatsApp regarding the use of Pegasus against activists and lawyers, many of whom were connected to the Bhima Koregaon case. It is clear as daylight that the government is out to muzzle with repression or surveillance any voices critical of it and simply placing forth the truth.
Through its cooperation with Israel and the NSO Group, the government does so using technologies that are developed through usage against Palestinians. They are perfected in this way before being sold to clients across the world, who then use it for repression. From Saudi Arabia to Mexico, from Hungary to India- they have been used by regimes to target dissenters, some of whom, like journalists Jamal Khashoggi and Cecilio Pineda Birto, have also been killed.
Therefore, while we ask the Indian government to come clean on the findings of this investigation, we must work towards a broader global alliance that challenges such surveillance and the collusion of governments to gain access to technology built to violate human rights, like in the case of Israel.
The NSO Group needs to be held accountable for the deaths and repression of those targeted by their technology. But this is merely the tip of the iceberg.
The import of surveillance technology is a direct result of a government policy that poses Israel as a model. The Citizenship Amendment Act mirroring the Law of Return and abrogation of Article 370 in Jammu and Kashmir opening the doors for 'Israel-style settlements' have been a starting point. The scandal of anti-democratic snooping shows how Israeli methods are being used against anyone that opposes the wills of those in power. Intrinsically, our struggles for democracy and equality are linked to the Palestinian liberation movement, as well as people across the world resisting human rights violations.
We demand and must also build sustained struggles to:
End the purchase of cyber surveillance technology from NSO group and other such companies, using public money.
End the surveillance and repression against Indian citizens
End military and security ties with apartheid Israel
Read the statement in Hindi here.
Ambika Nair, Freelance Editor

Paranjoy Guha Thakurta

Achin Vanaik, Retd. Professor, University of Delhi

Uma Chakravarti, Retired Teacher

Vijoo Krishnan,  All India Kisan Sabha

Naseeruddin Shah
Ratna Pathak Shah

Apoorvanand, Teacher and Writer

T.M.Krishna, Musician and Author 

Mallika Sarabhai 

Githa Hariharan, Writer, Indian Cultural Forum

Prabir Purkayastha, Newsclick

Dr. Frazer Mascarenhas S.J., Academic Administrator

Pyoli, Samajwadi Janparishad 

K.Ravi Chander, Telangana Praja Front (TPF)

Sharib

, University of Bern

Harsh Mander, Human Rights and Peace Worker and Writer

Vijay Prashad, Director of Tricontinental Institute for Social Research; Chief Editor,

LeftWordBooks; Chief Correspondent at Globetrotter

Ahdaf Soueif, Writer

Raja Shehadeh

Deepika Joshi, Jan Swasthya Abhiyan

Virginia Saldanha, Indian Christian Women's Movement

Meera Sanghamitra, National Alliance of People's Movements (NAPM)

Sharmila, IIT Bombay

Ayesha Kidwai, Jawaharlal Nehru University 

Aman, JGLS

Sharanya, Rangmatipadar Adivasi Commune Koraput

Khalida parveen, Amoomat society

Safoora Zargar, Jamia Millia Islamia

Ranjan Solomon, Badayl

Rajendra Chenni

Bishnupriya Dutt, JNU 

Nandita Narain, St Stephen's College, Delhi University 

Nivedita Menon, JNU Delhi

Karuna D.W.

Salim Yusufji

Prof. Mohan Rao, Jan Swashya Abhiyan

Marcy Newman

N Venugopal, Editor, Veekshanam

Madhu Sahni, JNU

Ranjana, WSS

vqueeram, Independent Researcher

Nikita Agarwal, Advocate, High Court of Delhi

Pradip Datta, retired professor, JNU

Sachidanand Sinha, JNU, New Delhi

Soibam Haripriya 

Janaki Nair, Professor (Retd) Centre for Historical Studies, JNU

Pushpamala N, Artist

Prem Kumar Vijayan, Hindu College, Delhi University

Sukla Sen, PUCL, Maharashtra 

K. Padma, Committee for Release of Political Prisoners

Anupama P, University of Hyderabad 

Siddharth, MA, JNU

Chirashree Das Gupta, Jawaharlal Nehru University

Anirban Bhattacharya, CFA

Sowmya Dechamma C C, UoH

Chirag Shah

Nisha Biswas

Nabila Khadija Ansari, Student

Neha Trivedi

Ammu Abraham, Forum Against Oppression of Women 

Dr Debjani Sengupta, Associate Professor, IP College, DU

Sukumar Muralidharan, Independent journalist

Sandhya Gokhale, Forum Against Oppression of Women

Latha

Anita A Cherian

Lingam Nageswara Rao, Retired

Ayesha Samah, Student

Rahul Menon

Devaki Jain

Aastha

Devaki Khanna

Devika J, Feminist Scholar, Kerala

Debarati

Mohammed Danish

Indrapramit Das

S. Raghunandana, Kannada Poet, Playwright, Stage Director

N. Jayaram, PUCL

Dunu Roy, Hazards Centre

Jagdeep Chhokar , Retired Professor 

G. Arunima, Kerala Council for Historical Research

Rajni Palriwala

Nasir Tyabji, Formerly with Jamia Millia Islamia

Geeta Seshu, Free Speech Collective

S. Gopal

Xavier Dias, Mines Minerals & RIGHTS 

Navdeep Mathur, IIM Ahmedabad

Bittu K R, WSS

Kalpana Swaminathan 

Ishrat Syed

Mahnoor Yar Khan

Himanshu Desai

Mohd Abuzar, Independent Activist

Aflatoon, All India General Secretary, Samajwadi Jan Parishad

Prabir Bose

Natasha Ginwala 

Sunita  Babu

Sujata Gothoskar, Forum Against Oppression of Women

Naresh Dadhich, IUCAA 

Maimoona Mollah, AIDWA, Delhi

Jeroo Mulla, Sophia Polytechnic

Asha Sharma, AIDWA, Delhi

 Abdul Rahman, Peoples Dispatch 

Kalyani Menon Sen,

Independent Researcher

Atul Gurtu, Retired Scientist TIFR 

Rahul Roy, Indian Statistical Institute 

Shireen Mistree

K Satchidanandan, Indian Writers' Forum

Amarjit Chandan

Geeta Kapur, Independent art writer

Aravinda Potluri 

Meena Kandasamy, Writer

 Ashok Vajpeyi, Writer and Literary Critic

Hiren Gohain

Nicholas Barla

Aruna Rodrigues 

Chandrakant Patil

Satarupa Chakraborty, AIDWA

Nandini Rao

Winnie Chauhan, LeftWord Books

M Madhava Prasad

Rimli Bhattacharya, University of Delhi

Pritam Singh, Professor

Meena Dhanda, Professor 

Hazel D'Lima, Nirmala Niketan

Shastri Ramachandaran, Journalist

Vidya Bhushan Rawat, Activist and Author

Dwarika Nath Rath, Activist

M G Devasahayam, People-First Movement

Sahba Husain, Independent Researcher/ Writer

Srabani, JMS, Delhi

Kalyani Chaudhuri, Retd. [IAS] Additional Chief Secretary, West Bengal

Prasad Chacko, Independent consultant

Gyan Prakash, Princeton University 

Deepak Kapur, Professor, UNM

Feroz Mehdi 

Durga Prasad Panda, Bilingual Poet and Critic

Krishnakant Chauhan, Environment Activist

Rakhi Basu

Souradeep Roy, Queen Mary, University of London

Shakuntala Kulkarni

N Manu Chakravarthy, Visiting Professor

Dr. S C Mukhopadhyay, Academic

Kumkum Roy

Abhinav Surya L T, Free Software Movement Karnataka

Jyoti Punwani, Freelance journalist

Oishik Sircar, Jindal Global Law School

Firoz, School Teacher

Mounica Sreesai, Students Federation of India

Sumanta  Banerjee, Independent Writer and Political Commentator

Varsha K, Academic

Taher

Neha, Lawyer

K. Muralidharan

Supriya Varma

Avani Chokshi

Sagari R Ramdas, Food Sovereignty Alliance 

Debashree Mukherjee

Veena Chalam

Prakash Narain

Ashish Ghosh, Retired from DU

Peggy Mohan, Writer

Akriti, Student

Pushkar Raj, PUCL

Ram Puniyani, Center for Study of Society and Secularism

Elsa, PBVM

Usman

Vidyun Sabhaney, Artist

Suyash Modi

Sharon Flynn

Niloufer Sagar

Prof J G Krishnayya, Retired, ex-Director of Systems Research Institute, Pune

Shalini Gera, Lawyer, Chhattisgarh High Court

Datta Desai, Peoples' Science Movement/Left Movement

Devdan Chaudhuri 

Dev Desai, ANHAD 

Shivangi Mariam Raj, Independent Researcher and Translator 

Deepti Bharti, National Federation of Indian Women

Suchetana Chattopadhyay, Jadavpur University

Vinod Mubayi, Insaf Bulletin 

Manjari Mehta

Nilanjana Paul, The University of Texas Rio Grande Valley

Dr. Sanjay Mangala Gopal, National Alliance of Peoples' Movements (NAPM)

Sunil Kumar Banerjee

Sachin N, DSC, University of Delhi

Lotika Singha, University of Wolverhampton, UK

Rajeev Singha

Mohammed Al Asaad, Writer

Kiran Tandon, Book Editor

Ramneek Singh, Playwright and Theatre Director

Subhash Gatade, New Socialist Initiative

Ashley Jude Mario Tellis, Independent Researcher

Mohammad Imran, Retired

Dr Sylvia Karpagam, Public Health Doctor 

Anustup Basu, University of Illinois at Urbana-Champaign

Albeena Shakil

Rosamma Thomas, Freelancer

Mariam Dhawale, All India Democratic Women's Association

Ajay Ranjan Singh

Philomena D'Souza

Malathi

A.K.Maleri, Democratic Rights Movement  

Arun, VIRASAM

Ritu Maleri, Democratic Rights Movement

Pamela Philipose, Ombudsperson, The Wire

Dharvinder Kumar

Brinda Adige

Vivan Sundaram

Amar Jesani

Manishi Jani

Indira Chandrasekhar, Publisher

Bharati Jagannathan, Miranda House, Delhi university

Deeksha, Student

Prabhu Prasad Mohapatra, History, .University of Delhi

Aashita Dawer, O.P. Jindal Global University

Husna Hasan 

Jagmohan Singh, Association For Democratic Rights (Punjab) 

N A Sebastian

Purendra Prasad, Professor

Manju Kulapuram

Mukund Kulkarni, Development Foundation

Chaand Ohri, Doctor

Aarti Bhatt, CAR

Avinash Kumar, Assistant Professor, JNU

Rohini Hensman, Writer and Independent scholar

Abha, One Billion Rising 

Madhu Bhaduri

Shashi Deshpande, Writer 

Nayantara Sehgal, Writer

Samik Bandyopadhyay, Art, Theatre and Film Critic

Henri Tiphagne, Human Rights defenders' Alert – India (HRDA) 

Poonam Kaushik, General Secretary Pragatisheel Mahila Sangathan Delhi

Shreya Menon

Suhail Shafi

Rajiv Gupta, Former Professor and Head, Department of Sociology, University of Rajasthan, Jaipur 

Dr. James Deutsch, University of Toronto

Anand Patwardhan, Filmmaker

Megha Pansare, Academic

Manmohan Kumar, All India Rural and Agricultural Labour Association

Hiren Gandhi

Saroop Dhruv

Sucharita Sen, JNU

Lalita Ramdas

Indrapramit Roy, Artist

Vasudevan Akkitham, Freelance Artist 

Anju Uppal

Moinak Banerjee, Doctoral Student, McGill University

Vikash, NAPM

Rana
Organisational Endorsement:
New Trade Union Initiative

InSAF India (International Solidarity for Academic Freedom in India)

Campaign Against Fabricated Cases(CAFC), Odisha

COLLECTIVE