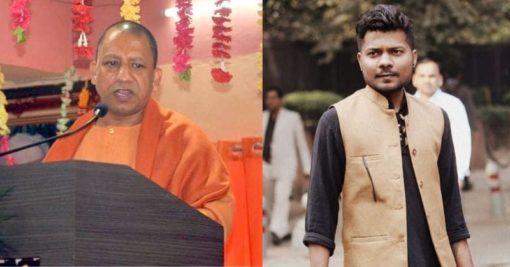 On June 6, journalist Prashant Kanojia shared a video of a woman speaking about wanting to marry UP CM Yogi Adityanath on social media. Two days later, on June 8, Kanojia was arrested from his Delhi residence by the UP police for making "obscene comments" and "spreading rumours" about Yogi Adityanath.
The same evening, the head and editor of a private news channel, Nation Live, were also arrested. While Kanojia has been arrested for sharing the video on social media with "objectionable remarks" on CM Yogi, Ishita Singh and Anuj Shukla have been arrested for airing the allegedly defamatory video on their channel.
These arrests might be a blatant misuse of power by the Yogi led UP government, but support for Prashant Kanojia, Ishita Singh, and Anuj Shukla have been pouring in as many journalists and media organisations are condemning the UP police's action.
Issuing a press statement, The Editors' Guild of India called the arrests "high-handed, arbitrary and…an authoritarian misuse of law":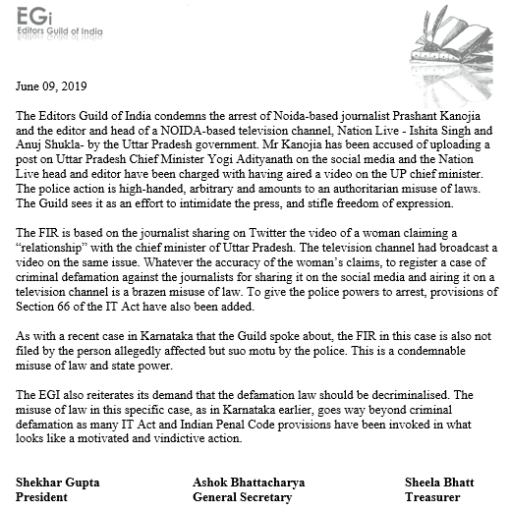 Condemning the arrests, The Indian Women's Press Corps (IWPC), Press Club of India (PCI), South Asian Women in the Media (SAWM, India), and Press Association have released a joint statement:
Media Organisations condemn arbitrary arrest of Journalists Prashant Kanojia, Ishita Singh and Anuj Shukla
"We, the undersigned Media Organisations, express our collective outrage and shock at the manner in which freelance journalist Mr Prashant Kanojia, as well as Ms Ishita Singh and Mr Anuj Shukla, editor and head of the Nation Live TV channel have been arrested by UP Police.
Mr Kanojia has been charged with posting on and giving news about the UP Chief Minister on Twitter, while Ms Singh and Mr Shukla have been charged with broadcasting this news on their TV channel.
Mr. Kanojia was picked up from his residence in East Delhi on June 8, 2019 by plainclothesmen of UP Police and taken to Lucknow.
According to the wife of Mr. Kanojia, who was the sole witness to his arrest, he was whisked away without as much as giving her opportunity to talk to her husband. According to the FIR, a case of criminal defamation under section 500 of IPC has been registered against him, which is non-bailable and cognisable.
The action taken by the UP Police against these three journalists is a clear case of administrative overreach and excessive in proportion by way of application of law. As media-persons, it is our firm belief that journalists ought to conduct themselves responsibly, yet at the same time, we feel that criminal provisions of the defamation law should be taken off the statute books, given their repeated use against journalists and others.
We urge and demand that the UP government should reconsider and withdraw the criminal defamation charges against all three journalists.
Indian Women's Press Corps (IWPC), Press Club of India (PCI), South Asian Women in the Media (SAWM, India), Press Association
Calling the arrests  "a serious clampdown on… the constitutional guarantees of freedom of speech and expression", The Network of Women in Media has also released a statement demanding immediate release of the three journalists:
NWMI Demands Immediate Release of Prashant Kanojia, Ishita Singh and Anuj Shukla
The Network of Women in Media, India condemns the arrest of Prashant Kanojia, Ishita Singh and Anuj Shukla.
Prashant Kanojia is an independent journalist, arrested by the Uttar Pradesh police for allegedly tweeting critical posts against Yogi Adityanath, the Uttar Pradesh Chief Minister. The police have claimed that the tweets -which relate to a woman making allegations about Adityanath- 'malign the image' of Adityanath.
On June 8, 2019, Prashant was picked up from his house in Delhi by police in plain clothes and taken to Lucknow. He was initially charged under Section 500 IPC and Section 66 of the IT Act. No warrant was presented at this time. Later, more charges were added.
UP police also arrested Ishita Singh, head of Nation Live, a Noida-based channel and one of its editors Anuj Shukla, for airing footage of the woman making claims about Yogi Adityanath, and allegedly propagating defamatory content.
The police issued a warning in a press release the same evening asking people not 'to write things on social media that disturb the law and order.' Equating criticism of the chief minister with disturbing law and order is totally contrary to freedom of expression in a democracy.
The fact that the three were picked up on a weekend when courts are shut and the procedure to get bail becomes difficult, is a clear indicator that the police's intention is to harass them further, thereby denying them access to justice.  
The above arrests are a serious clampdown on not just their fundamental rights but also the constitutional guarantees of freedom of speech and expression. They are also an indicator that the UP government is intolerant of dissent and selective in addressing crimes.
The arrests of the three journalists once again raise major concerns over the blatant subversion of the system of law enforcement and selective use of laws despite the fact that press freedom has been recognised as part of freedom of speech and expression under the Constitution. In India, journalists are increasingly becoming victims of arbitrary arrests, illegal detentions, and harassment.
These arrests also demonstrate the lack of political will to create a climate for free expression and tolerance of dissenting views. This is a blatant attempt to promote self-censorship, as it could act as a deterrent to journalists from speaking truth to power.
We demand:
Immediate release of Prashant Kanojia, Ishita Singh and Anuj Shukla​
Dropping of all charges against them
A credible investigation into the misuse of laws against journalists
The Network of Women in Media, India
As per the FIR released by the UP police on Saturday, the case against Kanojia was registered under Section 66 of the Information Technology Act, which relates to computer-related offences and Section 500 of the Indian Penal Code, which relates to criminal defamation.
---