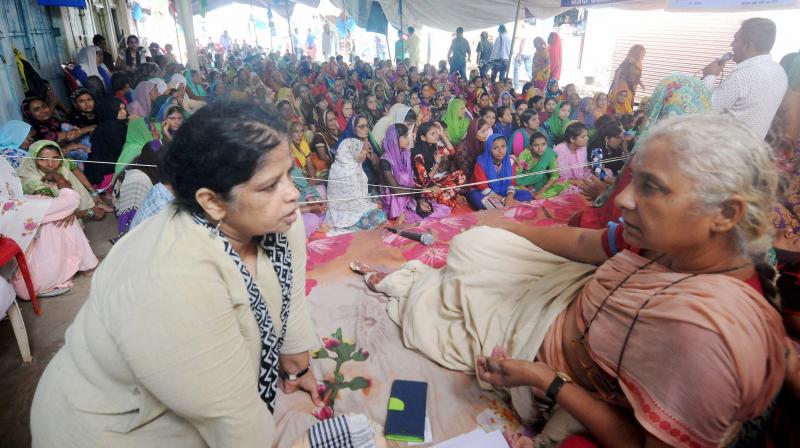 Chhota Badda (Barwani) | The fast of Ms. Medha Patkar under the "Narmada Challan Satyagraha" continued for the fifth day today. The Chief Minister of the State urged Ms. Patkar to end the fast, which was rejected in the absence of a concrete plan to rehabilitate the affected. Today, 10 affected people of Bhavati, Bijasan, Ganpur, Chhota Badda, Rajghat and Gangli have also started indefinite fast, to strengthen the ongoing struggle.
It is worth mentioning that indefinite satyagraha began on the 25 August 2019 in Chhota Badda in Barwani district against rehabilitation illegal drowning. Due to the insensitivity of the Center and the Government of Gujarat, thousands of families in Madhya Pradesh, Maharashtra and Gujarat are forced to face drowning without policy-driven rehabilitation. The Narmada Control Authority (NCA), a central government agency, is deliberately trying to drown the peasant-tribal, Kewat-Kahar, cattle herders, potters, landless laborers without rehabilitation by increasing the water level.
At present, rehabilitation of 32 thousand affected people is remaining in Madhya Pradesh itself. Hundreds of families in Maharashtra and Gujarat are also waiting to be rehabilitated. In this way, it is unacceptable to risk the lives of millions of people living in the submerged area.
Although the Kamal Nath government of Madhya Pradesh has started a process of dialogue with the movement, the Gujarat government and the NCA – who ordered to raise the water level – have not responded to the clear mass-killing effort being done in this planned manner.
Yesterday, the State Home Minister Shri Bala Bachchan had reached Chhota Barda, urging Ms. Patkar to end her fast and promised to take action on the demands of the satyagrahis.
After this late in the evening, Chief Minister Mr. Kamal Nath himself spoke to Ms. Patkar and requested her to end the hunger strike. Ms. Patkar refused both requests as both leaders did not make a firm point of controlling the water level to a certain level so that the affected families could reside safely in their villages till rehabilitation.
Meanwhile, Madhya Pradesh authorities continue to spread lies about the rescue operation. Mr. Klesh, SDM of Kukshi, has claimed to save more people than the total number of affected. However, the authorities are forcibly evacuating the affected from the villages in the name of rescue operations.
The central and Gujarat governments remain silent on this humanitarian tragedy. But the Prime Minister has also crossed all limits of decency. The Prime Minister tweeted that Sardar Sarovar's water level reached 134 meters and asked the countrymen to enjoy the beautiful view. This tweet of the Prime Minister is like sprinkling salt on the wounds of 32 thousand families of Narmada Valley without being rehabilitated. Such irresponsible behavior was not expected from the Prime Minister of the country.
The movement demands that –
The water level of Sardar Sarovar should be kept constant at 122 meters till rehabilitation of all the 32 thousand affected is completed as per policy.
The permission granted by the NCA to fill the dam to full reservoir level of 138.68 meters should be kept in abeyance until all the affected are rehabilitated.
The affected population of Madhya Pradesh, Maharashtra and Gujarat should be rehabilitated by providing complete civic amenities and means of livelihood before submergence.
All data and documents related to rehabilitation should be made public on the website so that new corruption can be curbed.
Rehabilitation, environmental protection and other expenses should be recovered from the Government of Gujarat.
The Satyagrahis resolved that if the government continued to increase the Narmada water level, the struggle would be further intensified.


---