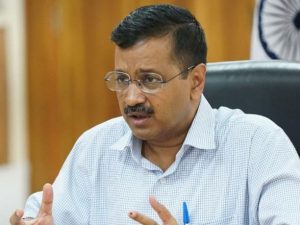 Image courtesy : Newsclick
Shri Arvind Kejriwalji,
Namaskar.
We, citizens of the national Capital, belonging to various walks of life write to you to express our grave disquiet and concern about the unfair, unjust, one sided and manufactured "investigation" by the Delhi police, the crime branch and the special police into the communal violence in north east Delhi. We write to request you to order an independent investigation under a retired judge of suitable stature with a time bound mandate. The terms of reference should include various aspects of the violence. We are committed to ensure punishment to those guilty of the violence and we believe an independent inquiry will help such a process. Since this letter is digitally endorsed please consider it signed by all of us whose names are given below.
The grounds are as under:
The Delhi Minority Commission (DMC) in its detailed report released recently has described a version of events which is in total contrast and variance with the claims made by the Delhi police. The Commission has recommended the setting up of an independent inquiry. The State Government should accept this recommendation.
The Delhi police functions directly under the Home Ministry. The Home Minister himself had led the highly communal election campaign in Delhi which was a prelude to the violence and in fact his speech has been quoted in the DMC report. There is a clear conflict of interest between getting to the truth and defending the leaders of the ruling party at the centre. Several BJP leaders including Ministers in the Central Government, MPs and other leaders like Kapil Mishra had made hate speeches but not a single FIR has been filed. On the contrary the Delhi police have officially declared that such speeches which sow enmity between two communities and incite violence are not "cognizable offences." However selective excerpts of speeches made by activists are used to name them in charge sheets. Such are the double standards of the police. An independent inquiry would help to pin down the role of different political functionaries.
The Delhi police have declared that they are "even handed" in the number of arrests of accused belonging to both communities. However their own figures show that the losses and damage are overwhelmingly borne by the minority community. In such a scenario "even handed" means to whitewash the facts. Moreover, the Delhi police have issued a formal letter to police officers asking them to be cautious in arresting Hindus since "complaints" have been received of arrests from community leaders. It is therefore clear that the pressure not to arrest those accused of violence even if they have been named is accepted by the Delhi police. This is a shocking exposure of being "not even handed." These double standards show that the Delhi police seeks to implement a political agenda–which is to conceal the role played by BJP leaders in the communal violence. Thus the importance of an independent inquiry.
The Delhi police is anchoring the current investigations under the three SITs which have been formed by them. However the Delhi police, notwithstanding their report that over 100 police personnel were injured in the violence, is itself accused in several cases of dereliction of duty, connivance and partisanship and in some cases of directly participating in violence against the minority community. Much of this is in the public domain through videos and press reports including the infamous incident in which injured young Muslim men were beaten, forced to sing the national anthem by uniformed policemen and then arrested leading to the death of one of them. Yet in their written rejoinders to several petitions in Court, the Delhi police have said that they have so far found no evidence against the police. Clearly no inquiry into the role of the police can have credibility if it is conducted by the police themselves. In this case the accused and the investigators belong to the same team. Thus the need for an independent inquiry.
On the basis of this one sided investigation grave injustice is being done to the democratic right to dissent. The entire chronology concocted by the Delhi police is to somehow link the communal violence in the third week of February to the anti-CAA movement starting in December and in particular the incidents in Jamia University. Activists who were part of the anti-CAA movement, which was in the main a historic peaceful protest are being egregiously linked to the communal violence. Many have been booked under the draconian UAPA and are denied bail. Others are being harassed by different wings of the police. In addition local youth of the minority community are being harassed and picked up on flimsy grounds. This is all based on the false chronology of events being manufactured by the Delhi police at the behest of their political masters. Therefore an independent inquiry will also help defend and strengthen the democratic rights enshrined in our constitution.
In such cases in the past there have usually been independent inquiries set up by the State Government concerned. It is true that in Delhi because of the various constraints imposed by the present centralized structure under the Lieutenant Governor answerable to the Central Government, there are problems faced by the State Government. However, under the present constitutional framework the State Government has every right and the powers to institute such an inquiry. Therefore we reiterate and urge you to set up an independent and time bound inquiry into the communal violence in north east Delhi. This will go a long way in restoring the confidence that justice will be done.
Thanking you,
Yours sincerely,
Air Vice Marshal (Retd) N.I. Razzaqui (AVSM); Muchkund Dubey, (Former Foreign Secretary); Wajahat Habibullah, (IAS retd. Former Chairperson, National Commission for Minorities and first Chief Commissioner RTI); Brinda Karat, (Polit Bureau member, CPI(M)); Harsh Mander, (Social Activist, Author and Columnist); H.K. Dua, (Senior Journalist); Mrinal Pande, (Senior Journalist & Author); Dr. Sayeda Hameed, (Former Member Planning Commission); Shyam Menon (former VC Ambedkar University, Delhi); Githa Hariharan (Author); Swami Agnivesh; Prabhat Patnaik (Professor Emeritus, JNU) & Jayati Ghosh (Professor, CESP, JNU).
Other signatories to the above letter are as under:
Abha Dev Habib, Treasurer, Delhi University Teachers' Association
Aejaz Ahmad Rather, Former General Secretary, JNUSU
Ahmar Raza, Retd Scientist, Ministry of Renewable Energy, GOI
Aishe Ghosh, President, JNUSU
Ajay Malik, Political Activist, New Delhi
Akshat Seth, Secretary, SFI JNU Unit
Akshaya Mukul, Journalist and Author
Albeena Shakil, Professor
Ali Javed,  President PWA
Amisha Madnani, Student
Amit Bhaduri, Professor Emeritus, JNU
Amit Thorat, CSRD, JNU
Anamitra Roy Chowdhury, Assistant Professor, SSS, JNU
Anand Chakravarti, Academic, Delhi University
Anand Saxena, Associate Professor, DDU College, DU
Ananya Vajpeyi, Scholar DU
Angad Tiwari, Shri Aurobindo College, DU
Anil, Researcher DU
Anil Kumar, Motilal Nehru College
Anish Vanaik, O. P. Jindal Global University
Anita Dube, Artist and Curator
Aniyan PV, CITU, Delhi
Anjali Ojha, Journalist
Dr Annie Koshi, Educationist, Delhi
Ann Varavukala, Special Education, Vasant Kunj
AnuradhaKapur, Theatre Director, Academic
Anuradha Marwah, Associate Professor, ZHDC, Delhi University
Anurag Saxena , General Secretary, Delhi State CITU
Anuvinda Varkey, Lawyer, VasantKunj
Archana Prasad, Professor, JNU
Arindam Banerjee, Assistant Professor, Ambedkar University, Delhi
Arpita Das, Publisher
Asha Sharma, General Secretary, Janwadi Mahila Samiti, Delhi
Ashlin Mathew, Journalist, Delhi
Ashwini Ailawadi, Creative Director
Ashok Aggarwal, Lawyer, Delhi
Atul Sood, Professor, SSS, JNU
Avinash Kumar, Assistant Professor in Political Studies, JNU
Ayesha Kidwai, Professor, JNU
Dr. Ayushya Kaul, Peace and Conflict Studies, JMI
Azizulla Baig, IAS (Retired) Delhi
Badri Raina, Writer, Delhi
Banjyotsna Lahiri, Ambedkar University Delhi
Benny Kuruvilla, Researcher, Delhi
Benston John, Assistant Professor, St. Stephen's College, DU
Bharati Jagannathan, Miranda House, DU
Bharti Ali, Child Rights Activist, New Delhi
Bhupinder Chaudhary, Maharaja Agrasen College, DU
Bolan Gangopadhyay, Freelance Journalist, Delhi
Brahm Prakash, Assistant Professor, SAA, JNU
Brajkishore Jha, Environmentalist
Bratati Pande, Academician (Retd) DU
Chander Prabha, Academician (Retd) DU
Charu Soni, Independent Journalist, Delhi
Chirashree Dasgupta, Associate Professor, JNU
Deb Mukherjee, IFS, Former Indian Ambassador to Bangladesh
Debjani Sengupta, Associate Professor, IP College, DU
Deepak Jakhar, Advocate
Deo Kumar, Rajdhani College, DU
Devaki Khanna (Freelance Editor) Delhi
Dharmendra Kumar Verma, Secretary, Delhi State Committee, AIFB
Dhruv Raina, Professor, SSS, JNU
Dinesh Abrol, Former Chief Scientist NISTADS CSIR, Delhi
Dinesh Varshney, Secretary, Delhi State Council, CPI
Doorva Vajpeyi ,Self Employed, Delhi
Dr. Navnith Mani, General Surgeon
Faizan Alam, Anhad, Delhi
Farah Naqvi, Writer & Activist, Delhi
FarazAhmad, Journalist
Faredoon Bhujwala,  Performer / Facilitator, Delhi
Garima Bhardwaj, Advocate
Gauhar Mahmud, Academician JMI, Delhi
Gautam Mody, New Trade Union Initiative, New Delhi
Geeta Kapur, Art Historian, Delhi
Geeta Seshu, co-editor, Free Speech Collective, Delhi
Giriraj Bairwa, Rajdhani College
Harsh Kumar Mehra, Advocate
Hasan Abdullha, writer
Harsimar Chawla, Activist, Delhi
Illyas Hussain,  Department of History,  JMI, Delhi
Indu Prakash, Social Activist, Delhi
Dr. Indu Prakash Singh, President, Forum Against Corruption & Threats (FACT) Delhi
Jagdeep Chhokar, Association for Democratic Reforms, Delhi
Jatin Sheth, Convener Nagrik Sashaktikaran Manch, Delhi
Jawarimal Parakh, Retd. Professor, IGNOU,
John Dayal, Journalist & Social Activist, Delhi
Jose Varavukala Information Technology Consultant, VasantKunj
Jyoti Punwani, Freelance Journalist
Jyoti Sabharwal, Associate Professor, Dept of Germanic & Romance Studies, DU
K P Fabian, Former Ambassador
Kaiser Shamim, Retd Professor, NCERT.
Kali Chittibabu, Assistant Professor, SSS, JNU
Kamal Mitra Chenoy, Retd Professor, JNU
Kamala Menon, Delhi Science Forum
Kavita Krishnan, AIPWA
Kausar Wizarat, Retd Lecturer, NCERT.
Ketaki Varma, Arts Manager and Researcher, Delhi
Keval Arora, Associate Professor, Delhi University
Kirti Jain, Theatreperson, Delhi
Kirti Singh, Senior Lawyer
KM Tiwari, Secretary CPIM, Delhi State Committee
Krishna Sengupta, Rd. Teacher DU
Kuldeep Kumar, Hindi Poet and Freelance Journalist, Accredited to PIB, GOI
Lata Singh, Associate Professor, SSS, JNU
Leher Sethi, Secretary – Indian Council for Human Relations
MMP Singh, General Secretary, Janwadi Lekhak Sangh
Madhavi Menon, Professor, Ashoka University
Madhu Bhaduri, Ambassador of India (Retd)
Madhu Prasad, Academician (Retd) DU
Maduresh Kumar, National Alliance of Peoples Movements.
Mahendra Singh, Academician (Retd) DU
Maimoona Mollah, President, Delhi State Janwadi Mahila Samiti
Majid Jamil, Professor, JMI, New Delhi
Major S L Parjapati (Veteran), Gurgaon
Makarand Sathe, Writer
Mala Dayal, Editor & Publisher
MallikaTaneja, Theatre Person
Manglesh Dabral, Hindi Poet
Manishi Jani , Writer-Filmmaker
Manjari Kaul, Theatre Artist
Mannika Chopra, Journalist
Mayank Kumar, Satyawati College, DU
Meera Rizvi, Media Professional
Mona Mishra, Senior Advisor to the UN
Monami Basu, Assistant Professor, Kamala Nehru College
Motiur Rahman, DU
Moushumi Basu, Faculty, School of International Studies, JNU
Mridula Koshy, Writer and Librarian
Naina Dayal, Assistant Professor, St. Stephen's College, DU
Nakul Singh Sawhney, Filmmaker
Nandini Sundar, University of Delhi
Nandita Haksar, Senior Lawyer
Nandita Narain, Associate Professor, St. Stephen's College, DU
Naresh Jatan, Theatre Person
Nathu Prasad, Secretary, Delhi State Dalit Shoshan Mukti Manch
Neel Chaudhuri, Playwright
Neelima Sharma, Theatre Personality
Neera Chandhoke, Former Professor DU
Neha Nehan, Advocate
Nilanjan Mukhopadhyay, Independent Writer & Journalist
Niranjani Iyer, Theatre Artist
Nivedita Menon, Professor  JNU
N S Goswami, Academician (Retd) DU
Nuzhat Kazmi, Professor, JMI
Padam Kumar, Advocate
Pamela Philipose, Journalist, New Delhi
Paranjoy Guha Thakurta, Independent Journalist
Paromita Shastri, Independent Journalist
PMS Grewal, CPI(M) Delhi
Pooja Lal, Gargi College, DU
Poonam Kaushik, Pragitisheel Mahila Sangathan
Poonam Girdhani, Theatre artist
Prabhu Mohapatra, Dept of History, DU
Prachi Jha, Activist New Delhi
Pradeep Shinde, Assistant Professor, SSS, JNU
Praveen Jha, Professor JNU
Pritish Menon, Secretary, Delhi State SFI
Prof DN Jha, Historian, Delhi
Prof. J. P. Shrivastava, Delhi University
Purnima Rao, Library Activist, New Delhi
Qaiser Shamim, Academic
Qurban Ali, Journalist
Radhika Kapoor, activist, Delhi
D Raghunandan,  Delhi Science Forum
Rahul Ram, Musician
Rahul Verma, Advocate
Rajeev Kunwar, Associate Professor, Dyal Singh College, DU
Rajendra Prasad, Safdar Hashmi Memorial Trust
Rakhi Sehgal, Labour Researcher & Activist, Delhi
Ram Rahman, Photographer
Rama Baru, Professor, SSS, JNU
Ranjana Nirula, CITU
Ravinder Goel, Former Teacher DU
Ravi Rai, Secretary, CPI-ML, Delhi State Committee
Rekha Awasthi, Janwadi Lekhak Sangh, Delhi
Renu Bala, Associate Professor  ARSD College, DU
Revati Laul, Journalist
Rita Manchanda, Consulting Research Director, South Asia Forum for Human Rights
Rithambara Shastri, Journalist
Ritu Menon, Publisher
Rohit Khanna, journalist
Rudrashish Chakraborty, Kirori Mal College, University of Delhi
Rushda Siddiqui, President, Delhi State NFIW
Sachi Chaturvedi, Citizen, Delhi
Sachidanand Sinha, JNU
Sahba Hussain,  Activist, Delhi
Saiful Khan, Delhi State Committee, RSP
Saikat Ghosh, SGTB Khalsa College, University of Delhi
Saket Moon, Vice President, JNUSU
Samina Mishra, Filmmaker, Writer & Teacher, Delhi
Dr. Sandhya Kumari, Associate Professor of Law, School of Law, Galgotias University,
Sangeeta Luthra, Academic
Sania Hashmi, Secretary, Jana Natya Manch, Delhi & Filmmaker
Sanjay Srivastava, Institute of Economic Growth, Delhi.
Sanjaya Kumar Bohidar, SRCC, DU
Sanjeev, Bahujan Samajwadi Manch, Delhi
Sanjeev Kumar, Joint General Secretary, Janwadi Lekhak Sangh
Sarika Chaudhary, Former Vice President, JNUSU
Saumyajit Bhattacharya, KMC, DU
Savithri Singh, former Principal, Acharya Narendra Dev College, DU
SehbaFarooqui, JMS, Delhi
Dr Seema Alam, Institute of Liver and Biliary Sciences, New Delhi
Shabnam Hashmi, activist Anhad
Shamsul Islam, Historian, Delhi
Saratchand, Satyavati College, DU
Shastri Ramachandran, Journalist
Shaswati Mazumdar, Former Professor, Delhi University
Sheodutt, Shaheed Bhagat Singh (Eve.) College, University of Delhi
Shreya Bhardwaj, PR Executive, Delhi
Shubhra Chaturvedi, Artist and Photographer
Shukla Sawant , Faculty, School of Arts and Aesthetics, JNU
Shyista Khan, Associate Professor, DU
Sideshwar Shukla, Associate Professor,  Delhi University
Irfan Habib, Scientist & Historian
Smita Gupta, Economist and Activist, New Delhi
Sohail Hashmi, Filmmaker, Writer, Historian, Dlehi
Som Dutt Sharma, Lawyer, Delhi
Sonya Surabhi Gupta, Professor of Latin American Studies, JMI, Delhi
Srimanjari, Miranda House, University of Delhi
Subhash Chandran KR, Lawyer, Supreme Court
Subhojeet Dey, Treasurer, AUDSU
Subir Banerjee,  CPIM Delhi
Sucharita Sen, Professor, SSS, JNU
Sudhanva Deshpande, Publisher and Theatre Person, Delhi
Suhas Borker, Convener, Working Group on Alternative Strategies, Delhi
Sujata Raghavan, Development Writer, Delhi
Sujata Shakeel, Independent Journalist, Delhi
Sujeet Kumar, DCAC, DU
Suman Arya , Little India Foundation, Delhi
Sumit Kataria, President, Delhi State SFI
Sundaram Shukla, Academician (Retd) DU
Prof Sunil Kumar, Department of History, Delhi University
Sunil Kumar, Advocate
Suranya Aiyar, Child rights activist, Delhi
Surajit Majumdar, Professor, JNU
Sushil Swatantra, Journalist and Activist, Delhi
Svati Joshi,  Academic, Delhi
Swati Goswami, Content Writer, Delhi
T.M. Thomas, Academician (Retd) DU
Tanvir Aeijaz, Associate Professor Ramjas College, DU
Themeem T, Asst Professor of English, St Stephen's College, Delhi
Udaya Kumar, Professor, JNU
Uma Chakravarti, Professor, Historian, Activist, Delhi
Unnimaya, General Secretary, LSRSU, Delhi
S. Dixit, ARSD College, DU
Valay Singh, Journalist and Author, Delhi
Dr Vandana Prasad, Public Health Professional, Delhi
Venkatesh Nayak, Transparency Advocate, Delhi
Venu Arora, Media Rights Activist, Delhi
Vijay Kiyawat, IIT engineer, Retired Corporate Executive, New Delhi
Vijaya Venkataraman, Dept of Germanic & Romance Studies, DU
Dr Vikas Bajpai, Assistant Professor, CSMCH, JNU
Vikas Rawal, Prof. CESP, JNU
Virender Lal, Academician (Retd) DU
Vivan Sundaram, Artist, Delhi
Vivek Mohan, DCAC, DU
Vivekanand Tripathi, Social Activist
Vivian Fernandes, Journalist, Delhi
Vrinda Sharma, Student, Delhi
Yousuf Saeed, Filmmaker, New Delhi
Zeenat Niazi , Activist, VasantKunj, Delhi
Ziauddin, Lawyer, Delhi
Zoya Hasan, Former Professor, JNU, Delh