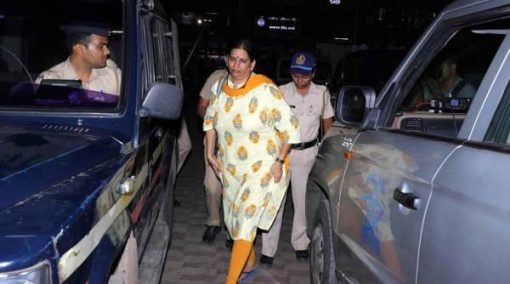 The Jagdalpur Legal Aid Group and Collective strongly condemns and mourns the incidents of arrest and police remand of Advocate, friend, mentor, and colleague Sudha Bharadwaj and calls upon a collective expression of solidarity and strength from all activists, students, lawyers, democratic rights and civil liberty communities, friends and the general public. We also denounce this ongoing onslaught on other activists, lawyers, writers and professors, including Advocate Surendra Gadling, Advocate Arun Ferriera, Professor Shoma Sen, Vernon Gonsalves, Mahesh Raut, Varavara Rao, Gautam Navlakha, Sudhir Dhawale, Fr. Stan Swamy, Rona Wilson, Anand Teltumbe and several others who are being implicated by this mesh of lies and deceit spun by the Pune Police. We also condemn attacks direct and indirect by the State to silence civil rights and democratic rights organisations and extend our heartfelt solidarity to the People's Union for Democratic Rights, Indian Association of Peoples' Lawyers, Committee for Release of Political Prisoners, Committee for Protection of Democratic Rights, and the Persecuted Prisoners Solidarity Committee, which have been under relentless attack through the Indian Government's strategy of labelling all voices of dissent "anti-national" and "Urban Naxal".
We most vehemently deny and condemn all the stories concocted by the Pune Police in the infamous letters leaked by them to several media houses, and call upon larger common sense to prevail in this matter.The entire case is based on a cloak of criminality woven out of unsigned, uncorroborated, unverified letters which are unfathomably ridiculous, substantially and otherwise. As was noted by Justice D.Y. Chandrachud in his dissenting judgement, the letter allegedly written by Advocate Sudha Bharadwaj is clearly written by someone who is a Marathi speaker, when Adv. Bharadwaj learned her Hindi in Delhi, Madhya Pradesh and Chhattisgarh, where she has lived and worked in the last 45 years, and does not speak any Marathi! The fact that the police have themselves released these letters to the press before producing them in court clearly shows that the prosecution has little faith in its case and is falling back on petty media tactics to colour the impression of the arrestees in the general public. This has been done with brazen impunity and has not been a one-off incident of the police using the media to polarise public opinion but is a dangerous trend in the present pattern of malicious prosecution on the part of the State where entire battles are sought to be fought on lies and deceit in the media instead of hard law in the courtrooms.
We categorically deny the allegations made by the Pune Police through a fabricated letter which they have created and addressed to some "Comrade Prakash" by one "Sudha," which alleges that "Sudha" has been arranging funds for our activities in the interiors of Bastar. We entirely and wholly deny these allegations put forth and most explicitly state that we have never been funded by Advocate Sudha Bharadwaj for our work and our activities. We have received financial support from groups, friends and individual lawyers and we would be happy to share our bank statements with anyone who would wish to peruse through our finances. As we deny financial patronage of Sudhaji with JagLAG, we also wholeheartedly, and with full honours accept our most intimate association with her. To have our association carved out with her is and always will be a fortune for we have immense respect for the incarcerated lawyer and her invaluable work.
Furthermore, we wish to make explicit that we have in no manner been travelling into any "interiors" but have been discharging our duties as lawyers in courts, police stations, administrative officers and as researchers. There has been a social media campaign to malign us and our work and to cast serious aspersion on our identity. Such fabrications by police against us are not new and we have been on the receiving end of threats, intimidation and vilification tactics of the local police and vigilante groups. In February 2016, our involvement in challenging the mass sexual violence in Bijapur District resulted in our exodus from Jagdalpur. We have consistently been attacked for our work of providing legal aid to those who have been at the brunt of gross human rights violations in the conflict prone area of Bastar. Since our conception, we have been engaging in documentation related work apart and have been providing legal representation to the incarcerated marginalised adivasis and filing and pursuing writs and PILs in the High Court challenging extrajudicial killings by the police and security forces. This has rendered us an eyesore for the police and the government alike despite the fact that we work within the confines of law and our work is driven by the Constitutional duty to protect, preserve and uphold the law for even the most marginalised.
While Adv. Sudha Bharadwaj has never given us any money, what she has given to us, as young lawyers and to the entire lawyering community is so much more. Advocate Sudha Bharadwaj has through her indomitable spirit been an inspiration to many. We have just had the fortune of watching her in her legal practice and learning from her. In moments of frustration and despair at the limits of law, she taught us the value of rigor and patience while fighting battles legally. From her, we learned that big victories aren't everything it is the process of the fight and struggle that matters. She has always acknowledged and given value to even simple questions and suggestions, creating a space where we could be colleagues and not put down as juniors. She has inspired several to pursue legal education and human rights lawyering.
Sudhaji has above all, been a lawyer of exceptional ethic and dedication and has fearlessly provided legal representation in cases which no other advocate would dare to touch. She played a crucial role in the Commission of Inquiries of the Sterilization incident where 13 women died on account of Government negligence. She has also proactively filed cases in the High Courts and Labour Courts on matters of the Pragatisheel Cement Shramik Sangh and has been applauded for her vigorous legal acumen by lawyers and judges alike. She has also represented in various cases challenging land grab for "development", mining, and industrial benefits all at the expenses of the marginalised farmers and Adivasis, represented MoTA in Jharkhand. She was also appointed as a member of the Chhattisgarh Legal Service Authority by the Chief Justice of Chhattisgarh and provided rigorous legal aid to many. And her work as a lawyer is only a small part of her identity. Sudhaji is also a trade unionist associated with Chhattisgarh Mukti Morcha, General Secretary of the Peoples Union of Civil Liberties, Vice President of IAPL, member of Chhattisgarh Bachao Andolan, and an activist with an ethic to reckon with. Sudhaji was also a firm voice, supporter, and organiser in the aftermath of the infamous arrest of Dr. Binayak Sen who was the President of PUCL. As a member of the PUCL she spoke strongly against the human rights violations that were brought on by the Salwa Judum and as a lawyer she represented the victim-survivors in the Samsetti rapes by the Salwa Judum activists and SPOs. For us lawyers who have worked in JagLAG or are working with JagLAG, Sudhaji has been the force which sustains us, guides us and shapes us.
As news of Sudhaji's remand in police custody trickles in, we carry on with our work, with increased vigour and strength. We stand firmly with Sudha Bharadwaj and the rest of the arrestees in the Bhima Koregaon case. We dedicate the next chapter of our work to Advocate Sudha Bharadwaj, and we hope that we shall not fail her. Simultaneously, as further legal recourse against these unjust arrests happens, we hold on to the last vestiges of hope that this legal system shall not fail her either.
Nikita Agarwal, Chhattisgarh High Court at Bilaspur
Shikha Pandey, Devid W. Leebron Human Rights Fellow 2018
Isha Khandelwal, Advocate, Jagdalpur Legal Aid Group
Shalini Gera, Chhattisgarh High Court at Bilaspur
Dr. Lakhan Singh, Chhattisgarh State President, Peoples Union of Civil Liberties
Priyanka Shukla, Advocate
Rupesh Kumar A.
Guneet Ahuja, Advocate, Supreme Court of India,
Parijata Bharadwaj, Advocate
Aarushi Mahajan, Advocate at Lawyers Collective (HIV/AIDS wing)
Kuldeep Singh, Hidayatullah National Law University
Ajay Singh Suryavanshi, Advocate
Gaurav. Bakshi, Hidayatullah National Law University
Abhinav Gupta, Researcher
G.V.S. Sahith Reddy, Advocate, Delhi
Arpit Gupta, Legislative Assistant to Member of Parliament (LAMP) fellow
Praavita, Advocate
Shardul Gopujkar, Maharashtra National Law University
Riddhi Pandey, Masters Student, IHEID, Geneva
Nikita Sonawane, Lawyer
Maansi Verma, Lawyer
Sahana Manjesh, Advocate
Sarah Jacobson, Maati
Ashwin Pantula, NLSIU Bangalore
Atindriyo Chakrabarty, Advocate
Gopika N, Advocate
Gutta Rohit, Human Rights Forum
Zeba Sikora, Advocate
Ira- Chadha Sridhar
Mukta Joshi, NLSIU Bangalore
Upasana Chauhan, Volunteer at Migration and Asylum Project
Sanjeev Menon, Advocate
---