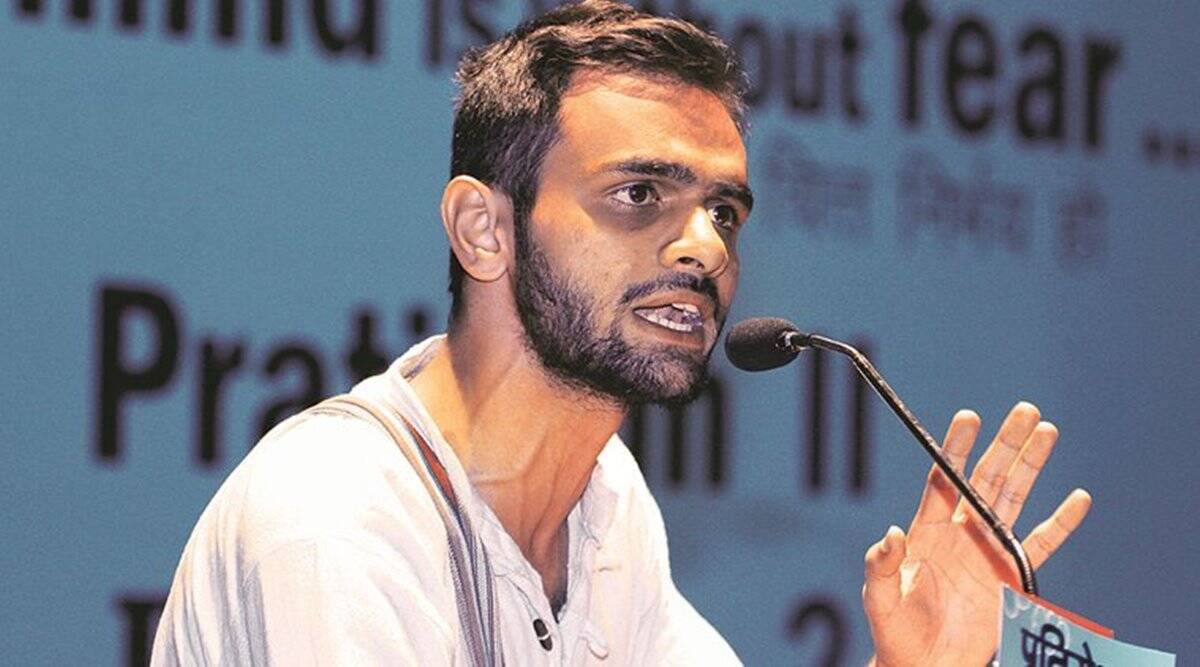 As an international community of scholars, teachers, students, artists and film-makers, we have watched with alarm the events unfolding in India. We stand in solidarity and outrage, with the brave young scholar and activist Umar Khalid, arrested in New Delhi on Sept 14, 2020, under fabricated charges of engineering the Delhi riots in February 2020. He is charged with sedition, conspiracy to murder, and under sections of India's stringent anti-terror law, the Unlawful Activities Prevention Act (UAPA). This process of criminalizing all dissent has been underway for a few years and even under a COVID 19 pandemic, relentless political arrests under fabricated charges are punishing the innocent long before they are brought to trial.
What was Umar Khalid's crime? That he used the passion of his commitment to his country, marshalled his education and his voice to join the movement for equal citizenship, against the Citizenship Amendment Act (CAA); this law introduced religion as a criterion for citizenship, and has no place in a secular nation. Combined with the proposed National Register of Citizens (NRC), it threatened the citizenship rights of millions of India's poorest, and especially targeted Muslims. After the passage of the CAA on December 11, 2020, the movement against the CAA-NRC, in a matter of weeks, became the largest most peaceful democratic rights movement in independent India. It followed proudly in the footsteps of Mahatma Gandhi and embodied the spirit of the Indian Constitution drafted under the leadership of Dr. B.R. Ambedkar. Much like Black Lives Matter, the movement against CAA-NRC with full participation of all democratic rights actors, was led by those most affected – Muslims and especially Muslim women; students across universities, regions, classes and religions played a leading role.
Umar Khalid became a powerful young voice of truth in this movement, speaking at close to 100 meetings across India, in small towns and big cities, upholding the values of India's constitution; articulating the dreams of all young Indians – of freedom from hunger, deprivation, discrimination and fear. He staked his claim to the full measure of citizenship, he spoke for all marginal peoples, and above all Umar spoke for peace.
"We will not respond to violence with violence. We will not respond to hate with hate. If they spread hate, we will respond to it by spreading love. If they beat us with lathis, we will hold aloft the Tricolour. If they fire bullets, then we will hold the Constitution and raise our hands. If they jail us, we will go to jail happily singing, "Saarey Jahaan Se Accha Hindustan Hamara". But we will not let you destroy our country…"
Umar Khalid,
Amravati (Maharashtra), February 17, 2020
In 2018 Umar Khalid had defended what his examiners at India's prestigious Jawaharlal Nehru University, called a brilliant doctoral dissertation, on India's most deprived people – the Adivasis of Jharkhand. But while Umar chose to arm himself with a PhD, those who wanted to silence him, used weapons of violence, and in the same year, he narrowly escaped an assassination attempt by a gunman, while attending a public event. He has been projected as a jihadi, and a figure of hate by sections of a compromised Indian media, not only because he speaks persuasively against government policies that he believes are unjust, but also because he is Muslim.
Today Umar Khalid joins a long list of those targeted, implicated and unjustly incarcerated under UAPA, only because they were active in the equal citizenship movement, against the CAA-NRC. To send its chilling message to all critics, the State has chosen India's best and brightest; the young, the fearless, the dreamers of a better country, where inequality is not a bitter pill for some to swallow, but a vile aberration to be fought against at all times.
Read the names: Ishrat Jahan, Gulfisha Fatima, Sharjeel Imam, Khalid Saifi, Safoora Zargar, Meeran Haider, Asif Iqbal Tanha, Athar Khan, Umar Khalid, Natasha Narwal, Devangana Kalita and 10 others. The two non-Muslims, Devangana Kalita and Natasha Narwal, are fiery young feminists, who fought for the rights of women students in India's male-dominated campuses; against a masculinist state that cannot abide their fearlessness. Safoora Zargar arrested when 3 months pregnant, heartlessly kept for 2 months in a crowded prison during the COVID 19 pandemic, is the only one who got bail on 'humanitarian grounds' and only because of enormous public outcry. Currently, 19 of the 21 people falsely accused under terror laws, are Muslim. If we allow their identity to become their crime, India shall stand shamed in the global community of secular nations.
These people are not terrorists, and the police investigation into the Delhi riots is not an investigation. It is a pre-meditated witch-hunt. Although between December 2019 and February 2020, leaders from the Bharatiya Janata Party (BJP) gave hate speeches inciting their supporters to 'shoot the traitors', no cases have been registered against them. The role of BJP leader Kapil Mishra, has shockingly not attracted the merest police scrutiny; even though he stood in North East Delhi on February 23, 2020, along with the Deputy Commissioner of Police, and threatened that his supporters would 'take matters into their own hands' if the CAA protesters were not removed. This speech is widely alleged to have triggered the violence between 23 and 26 February 2020. Instead, young protestors have been targeted and thrown into jail.
The youth of any nation are its future. It is their voices we amplify today. As global citizens, we pledge our solidarity with each of those falsely charged. Seeking justice for them, is doing justice to our collective, democratic futures.
We call on the Government of India to:
Free Umar Khalid and all those falsely implicated and unjustly incarcerated for protesting against the CAA-NRC that denies equal citizenship rights.
Ensure that the Delhi Police investigates the Delhi riots with impartiality under the oath they took as public servants bound by the Constitution of India.
Endorsed by:
Noam Chomsky, Writer, Professor of Linguistics, USA
Angela Davis, Professor, philosopher, activist, writer, USA
Rajmohan Gandhi, Writer, (grandson of Mahatma Gandhi)
Parikh, 94 year old freedom fighter jailed by British in 1942
Priyamvada Gopal, Professor, Cambridge University, UK, (grand-daughter of S. Radhakrishnan, former President of India)
Sir Richard Jolly, Institute of Development Studies, University of Sussex, UK
James Galbraith, Professor, USA, son of J. K. Galbraith former US Ambassador to India
Raja Vemula, Law student, (brother of Rohith Vemula)
Medha Patkar, Social Activist
Sandeep Pande, Social worker, Magsaysay Awardee
Aruna Roy, Social Activist, India
Admiral Ramdas, Former Chief of Indian Navy
Lalita Ramdas, Social Worker
Salman Rushdie, Writer
P. Sainath, Writer, Economic and Political Analyst
Mira Nair, Filmmaker
Amitav Ghosh, Writer
Meena Kandasamy, Poet and writer
Tariq Ali, Writer
Ramchandra Guha, Historian and Columnist
Arundhati Roy, Writer
Suraj Yengde, Writer, Fellow Kennedy School of Government, Harvard University, USA
Ratna Pathak Shah, Actor and Educationist
Raju Rajgopal, Co-founder – Hindus for Human Rights
Sunita Vishwanath, Co-founder – Hindus for Human Rights
Vijay Prashad, LeftWord Books
Partha Chatterjee, Professor, Columbia University,USA
Irfan Habib, Professor, Aligarh Muslim University
Jan Breman, Professor Emeritus, University of Amsterdam, The Netherlands
Achille Mbembe, Professor, University of Witwatersrand, Johannesburg, South Africa
David Hardiman, Professor, Emeritus Professor of History, University of Warwick, UK
Prabhat Patnaik, Professor Emeritus, JNU
Sheldon Pollock, Professor, Columbia University, USA, Sanskrit Scholar
Akeel Bilgrami, Professor, Columbia University, USA
Homi Bhabha, Professor, Harvard University, USA
Mahmood Mamdani, Professor, Columbia University, USA
Carlo Ginzburg, Professor Emeritus, University of California- Los Angeles, USA
Sumit Sarkar, Professor Emeritus, Delhi University, USA
Sugata Bose, Professor, Tufts University, USA
Veena Das, Professor, Johns Hopkins University, USA
Claude Markovits, Center National de la Recherche Sceintifique, Paris
Gyanendra Pandey, Professor, Emory University, USA
Barbara Harriss-White, Professor Emerita, London School of Economics, UK
Judith Butler, Professor, University of California, Berkeley, USA
Romila Thapar, Professor Emeritus, JNU
Utsa Patnaik, Professor, Center for Economic Studies and Planning, JNU.
Tanika Sarkar, RetdProfessor, JNU
Thomas Blom Hansen, Professor, Stanford University, USA
David Ludden, Professor, University of Pennsylvania, USA
John Stratton Hawley, Professor, Columbia University, USA
Robert Chambers, Institute of Development Studies, University of Sussex, UK
James Laine, Professor, Macalaster College, USA
Nivedita Menon, Professor, Jawaharlal Nehru University
Gyan Prakash, Professor, Princeton University, USA
Audrey Truschke, Professor, Rutgers University, USA
Sumit Guha, Professor, University of Texas, Austin, USA
Ravi Ahuja, University of Gottingen, Germany
Arjun Appadurai, Professor, Media, Culture and Communication, NYU, USA
Timothy Mitchell, Professor, Columbia University, USA
Vinay Gidwani, Professor, University of Minnesota, USA
Manuela Boatcă, Professor, Albert-Ludwigs-Universität Freiburg, Germany
Dilip Menon, Professor, University of Witwatersrand, Johannesburg, South Africa
Patrick Heller, Professor, Brown University, USA
Ajay Skaria, Professor, University of Minnesota, USA
Angana Chatterjee, Centre for race and Gender, University of California, Berkeley., USA
Wendy Brown, Professor, University of California, Berkeley, USA
Lawrence Cohen, Professor, University of California, Berkeley, USA
Premesh Lalu, Professor, University of the Western Cape, South Africa
Indrani Chatterjee, Professor, University of Texas, Austin, USA
Ashutosh Varshney, Watson Institute for International & Public Affairs, Brown University, USA
Srirupa Roy, Professor, Centre for Modern Indian Studies, University of Gottingen, Germany
Usuf Chikte, Professor, Stellenbosch University, South Africa
Andrew Sartori, Professor, New York University, USA
Rebecca Karl, New York University, USA
Dipti Khera, Professor, New York University, USA
Jyotsna Kapur, Professor, University of Southern Illinois, USA
Satish Deshpande, Professor, Delhi School of Economics, India
Surajit Mazumdar, Professor, Jawaharlal Nehru University
Nandini Sundar, Professor, Delhi School of Economics
Neera Chandok, Professor, retd., Department of Political Science, delhi University
Sangeeta Dasgupta,Center for Historical Studies, JNU
Linda Hess, Senior Lecturer Emerita, Stanford University, USA
Julia Lesage, Professor Emerita, University of Oregon, USA
Ania Loomba, Professor, University of Pennsylvania, USA
Jean Michel Frodon, Film critic and Professor, Political Science Institute, Paris, France
Rasha Salti, Commissioning editor (Arte), Palestine/Lebanon
Barberine Feinberg, Artistic Director, Jean Rouch International Film Festival, France
Roshila Nair, Black Feminist and Writer, South Africa
Adil Mohommad, International Monetary Fund
Usha Iyer, Professor, Stanford University, USA
Priya Jaikumar, Professor, University of Southern California, USA
Neepa Majumdar, Professor, University of Pittsburgh, USA
Kuhu Tanvir, Professor, Michigan State University, USA
Anna Bigelow, Professor, Stanford University, USA
Aditi Chandra, Professor, University of California, Merced, USA
Priya Satia, Professor, Stanford University, USA
Mriganka Sur, Newton Professor of Neuroscience, MIT, USA
Abha Sur, Professor, MIT, USA
Vijaya Nagarajan, Professor, University of San Francisco, USA
Chris Marrewa Karwoski, Fellow, Bowdoin College, USA
Jaya Misra, Professor, University of Massachusetts, USA
Robert Pollin, Department of Economics, University of Massachusetts, Amherst, USA
Mark Fleishman, Professor, University of Cape Town, South Africa
Alex Müller, Professor, University of Göttingen, Germany
Fiona Ross, Professor, University of Cape Town, South Africa
Moinak Biswas, Professor, Jadavpur University
Bodhisattva Kar, Professor, University of Cape Town, South Africa
Deirdre Prins-Solani, Heitage Consultant and Peacebuilder, South Africa
Pratik Chakrabarti, Professor , University of Manchester, UK
Paola Bacchetta, Professor, Department of Gender & Women's Studies, University of California, Berkeley, USA
Tania Haberland, Poet and Activist, South Africa
Diane Shea, Faculty, Dawson College, Montreal, Canada
Amir Hussain, Chair and Professor, Loyola Marymount University
Malika Ndlovu, poet and arts activist, South Africa
Marlize Swanepoel, Director, Sp(i)eel Creative Arts Therapies Collective, South Africa
Chantal Snyman, playwright and Arts for Youth facilitator, South Africa
Shailaja Rao, Old Dominion University, USA
Amrit Wilson, South Asia Solidarity Group, UK
Kalpana Wilson, Lecturer, Birkbeck, University of London, UK
Sindhuja Sankaran, Professor,Jagiellonian University, Poland
W.T. Van Eg Dom, Arden University, UK
Nitasha Kaul, Senior Lecturer, University of Westminster, UK
Ananya Vajpeyi, Center for Study Developing Societies, New Delhi
M. V. Ramana, Professor, University of British Columbia, Canada
Poulomi Saha, Professor, University of California, Berkeley, USA
Aarti Sethi, Professor, University of California, Berkeley, USA
Abhishek Kaicker, Professor, University of California, Berkeley, USA
Dibyesh Anand, Professor, University of Westminster, UK
Ashok Prasad, Professor,Colorado State University, USA
Ramaa Vasudevan, Professor, Colorado State University, USA
Elissa Braunstein, Professor and Chair of Economics, Colorado State University, USA
Alpa Shah, Professor, London School of Economics, UK
Amrita Ibrahim, Professor, Georgetown University, USA
Ritika Shrimali, Professor, Huron University College, London, UK
Malini Sur, Professor, Western Sydney University, Australia
Priya Chacko, Professor, University of Adelaide, Australia
Amrita Pande, Professor, University of Cape Town, South Africa
Ruchi Chaturvedi, Professor, University of Cape Town, South Africa
Asanda Benya, Senior Lecturer, University of Cape Town, South Africa
Faisal Garba, Professor, University of Cape Town, South Africa
Talia Meer, Professor, University of Cape Town, South Africa
Anandaroop Sen, Professor, University of Cape Town, South Africa
Natasha Vally, University of Cape Town, South Africa
Suren Pillay, Professor, University of the Western Cape, South Africa
Sita Venkateswar, Professor, Massey University, New Zealand
Sumanth Gopinath, Professor, University of Minnesota Twin Cities, USA
Malavika Kasturi, Professor, University of Toronto, Canada
Sa'diyya Shaikh, Professor, University of Cape Town, South Africa
Debjani Bhattacharyya, Professor, Drexel University, USA
Srila Roy, Professor, University of Witwatersrand, Johannesburg, South Africa
Barbara Boswell, Professor, University of Cape Town, South Africa
Millie Thayer, Professor, University of Massachusetts Amherst, USA
Aditya Balasubramanian, Professor, National University, Canberra, Australia
Andrew B. Liu, Professor, Villanova University, Pennsylvania, USA
Meghna Chaudhuri, Professor, Boston College, USA
Mekhola Gomes, Professor, University of Toronto, Canada
Mehul Elliott-Joshi,Bational Health Service, UK
Philippa Kabali-kagwa, Development Facilitator, Coach and Author, South Africa
Andrew Ollett, Professor, University of Chicago, USA
Arunabh Ghosh, Professor, Harvard University, USA
Andrea Marion Pinkney, Professor, McGill University, Canada
Supriya Gandhi, Professor, Yale University, USA
Hamsa Stainton, Professor, McGill University, Canada
Patton Burchett, Professor, The College of William and Mary, USA
Abeer Y. Hoque, Writer, Photographer
Jaclyn Michael, Professor, University of Tennessee at Chattanooga, USA
Teena Purohit, Professor, Boston University, USA
Gowri Vijayakumar, Professor, Brandeis University, USA
Shuddhabrata Sengupta, Writer, New Delhi
Kajri Jain, Professor University of Toronto, Canada
Biju Mathews, Professor, Rider University, New Jersey, USA
Raza Mir, Professor, William Patterson University, New Jersey, USA
Sharad Chari, Professor, University of California, Berkeley, USA
Ishita Pande, Professor Queen's University, Canada
Bhavani Raman, Professor, University of Toronto, Canada
Michael Levien, Professor, Johns Hopkins University, USA
Rachel Sturman, Professor, Bowdoin College, USA
Matthew Shutzer, Professor, University of California, Berkeley, USA
Naveena Naqvi, Professor, University of British Columbia, Canada
Jens Lerche, Reader at SOAS, University of London, UK
Kristin Plys, Professor, University of Toronto, Canada
Aditya Ramesh, Professor, University of Manchester, UK
Koni Benson, Professor, University of the Western Cape, South Africa
David Boyk, Professor, Northwestern University, USA
Jasmina Brankovic, Centre for the Study of Violence and Reconciliation, South Africa
Aviroop Sengupta, , Columbia University, USA
Shaunna Rodrigues, , Columbia University, USA
Sohini Chattopadhyay, , Columbia University, USA
Uponita Mukherjee, , Columbia University, USA
Samyak Ghosh, , Columbia University, USA
Sayori Ghoshal, , Columbia University, USA
Parnisha Sarkar, , University of Toronto, Canada
William Mazzarella, Department of Anthropology, University of Chicago , USA
Amitava Kumar, Dept. of English, Vassar College, USA
James Malinson, Indology and Yoga Studies, SOAS, University of London, UK
Jyoti Puri, Department of Sociology, Simmons University, USA
M. R. Sharan, Postdoctoral Fellow, Center for Global Development
D.H. Shanahan, PhD Candidate, Cambridge University, UK
Stuti Pachisia, PhD Candidate, Faculty of English, Cambridge University, UK
Apurva Bamezai, PhD Candidate, University of Pennsylvania, USA
Balaji Narasimhan, Concerned Citizen
Ali Kazimi, Filmmaker
Mark Achbar, Filmmaker
Lalit Vachani, Filmmaker, Researcher, University of Gottingen, Germany
Anand Patwardhan, Filmmaker
Nakul Sawhney, Filmmaker