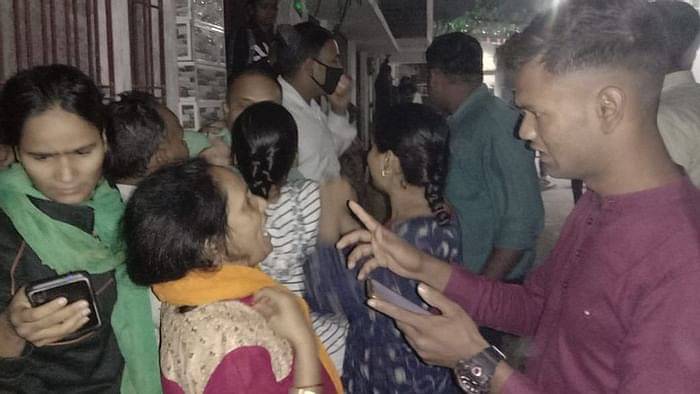 We condemn the shocking assault, humiliation and harassment of human rights Activist Zainab Siddiqui's family by Uttar Pradesh Police in Lucknow on 5th November. This targeting of grassroots Activists is a new way of curbing voices of dissent and must be strongly resisted.
Zainab Siddiqui, an Activist based in Lucknow, has been working extensively at grass root level on Women & human rights issues. She is part of Bebaak Collective. As a young Activist she enthusiastically participated in demonstrations against CAA/NRC/NPR.
On 5 November 2020, UP Police visited Zainab's residence asking her parents whether she was part of Anti CAA/NRC/NPR agitations. Her Parents responded by saying that she has worked with grass roots organizations. At 8:00 pm, Anti Terrorism Squad (ATS) & Uttar Pradesh Police barged into Zainab's house without any due process of law and took Zainab's father into custody. They also took Zainab's Brother into their custody who studies in Std 10 and is 16 years old. The police assaulted & abused Zainab's Mother and younger sisters who were in the house and snatched away their phones.
The Anti Terrorism Squad (ATS) & Uttar Pradesh Police were unwilling to co-operate. Even after requesting repeatedly, they refused to provide arrest warrant. Anti Terrorism Squad (ATS) & Uttar Pradesh Police then took Zainab's Father and 16 year old brother to Sarojini Nagar Police Station, Lucknow. The younger brother of Zainab, a juvenile was beaten by the U.P Police and kept in custody for a night. Zainab has also received threats from Uttar Pradesh Police.
We condemn this act of terrorizing people around her locality. We condemn the barbarous violence that Anti Terrorism Squad (ATS) & Uttar Pradesh Police has subjected Zainab & her family. It is a matter of utmost shame that human rights defender and their families are being attacked while those who commit acts of violence and promote social enmity roam free.
We are also concerned that in the past one year Uttar Pradesh Police has been systematically targeting Activists who are associated with Anti CAA-NRC-NPR protests which are inimical for the functioning of democracy in this country.
We appeal to human rights Activists & organizations to endorse this appeal in solidarity with Zainab & her family and condemn despotic action of Anti Terrorism Squad (ATS) and Uttar Pradesh Police.
Endorsements from Organizations and Activists:-
Kavita Srivastava – PUCL
Uma Chakravarti – Historian
Kamla Bhasin – Feminist Activist
Hasina Khan – Bebaak Collective
Teesta Setalvad –Writer and Human Rights Defender
Brinelle D'souza – Academic & Activitst
Chayanika Shah – LABIA
Meera Sanghmitra – National Alliance of People's Movements (NAPM)
Parwaaj – Ahmedabad
Abha Bhajiya – Women Activist
Sheba Chhach –, New Delhi
Ujjawala Mahatre – Gender Activist
Geeta Seshu – Journalist and Human rights defender
Amrita Howlader – Feminist Activist, kolkata
Masooma Ranalvi – Activist
Arundhati Dhuru – National Alliance for Peoples Movements
Anupama P – Hyderabad
Hozefa Ujjaini – Cultural and Human rights Activist
Shiraz Prabhu – environmental and Women Activist
Parmar Vijay – Human Rights Activist
Aruna Burte – Concerned citizen, Pune.
Biraj Mehta – Academican
Irfan Engineer – Human Rights Activist
Gayatri Singh – Laywer and human rights defender
Arundhati Dhru – NAPM
Sabah khan – Women Activist
Johanna Lokhande – Human rights Activist
Anuradha Kapoor– Kolkata, Feminist Activist
Monisha Behal – Women rights Activist
Nisha Biswas – Women Activist
Vandana Kulkarni – Women Activist
Anu – Samanvaya
Dr Mira Shiva – Public Health Physician
Sadhna Arya – University of Delhi
Sujata – Feminist Activist and Researcher, Mumbai
Amarjit singh – Activist
Rohini Hensman, Writer and Researcher
Sandhya Phadke – Academician
Virginia Saldanha – Women Activist
Lara Jesani – Lawyer, Mumbai
Vani Subramanian – Independent filmmaker, New Delhi
Shewli Kumar – Tata Institute of Social Sciences
Neha Dabhade –    Activist and Researcher
Kamal Thakar – Gender Activist
Reshma Vohra – Gender Activist, Gujarat
Kamayni Mhabal – Human Rights Activist, Mumbai
Shadaab Jahan – Gender Activist, Muzaffarnagar
Afroza Jahan – Women Activist
Mamta Singh – Women Activist, Lucknow
Richa Rastogi – Women Activist, Lucknow
Kamayni Mahabal, Activist
Archana Singh – Women Activist
Ritwik Das – Activist
Dimple Oberoi Vahali
Vinita Bal – Scientist and Activist
Mary John – Academician
Asma Rasheed – Academician, Hyderabad
Lakshmi Krishnamurty – Alarippu
Rakhi Sehgal, Labor Researcher & Activist, New Delhi
Pyoli Swatija – Lawyer and Activist- Delhi
Sujata Ghotoska, Feminist Activist and Researcher, Mumbai
Gabriele Dietrich – Feminist Activist and Researcher
Rita Manchanda – Feminist Activist
Sharmila – IIT Bombay
Lara Keswani– Lawyer, Mumbai
Ranu
Anisha
Shals Mahajan
Indian Women Theologians' Forum
Saheli Women's Resource Center, New Delhi
LABIA – A QUEER FEMINIST LBT COLLECTIVE