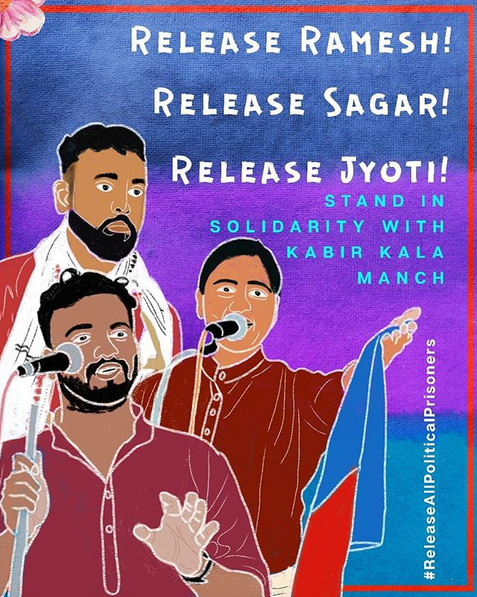 We, the undersigned artists and concerned citizens, condemn the use of exceptional laws like the UAPA, which denies bail and delays trial, effectively silencing voices of dissent, and those fighting for justice.
On 5th September 2020 Ramesh Gaichor and Sagar Gorkhe of the Kabir Kala Manch (KKM), a Maharashtra based radical Dalit cultural troupe, recorded and circulated an oral statement. They said they had been repeatedly interrogated by the NIA in connection with the Bhima Koregaon case. In this instance, the NIA demanded that the KKM accept that it had connections with Maoists in exchange for their freedom. Gaichor and Gorkhe refused to make a false confession. In their video statement they declared they were the inheritors of Babasaheb Ambedkar and not of Savarkar, that they believed in Constitutional values, and therefore would not submit to the pressure to sign something that was untrue. Soon after they released their video statement, Ramesh Gaichor, Sagar Gorkhe and a third KKM cultural activist, Jyoti Jagtap, were arrested, bringing the total number of present arrests in the Bhima Koregaon case to 15.
The Kabir Kala Manch has been consistently fighting caste oppression and Hindutva fascism through their unique musical performances. The state is attempting to silence the radical Bahujan cultural expressions like that of the KKM. This is an attempt to stop those trying to envision a just future for India. We condemn the attempt to stifle the voices of cultural dissent, and stand in solidarity with the arrested KKM activists, and all others who have been incarcerated in the Bhima Koregaon case.
Signatories for KKM statement
Adoor Gopalakrishnan, Filmmaker

Maya Rao, Theatre artiste

Geeta Kapur, Independent Art Writer

Vivan Sundaram, Artist

Nilima Sheikh, Artist

K. Satchidanandan, Poet

Githa Hariharan, Writer

Atul Dodiya, Artist 

Inder Salim, Conceptual and Performance artist

Mangai. A, Theatre Director and Writer

T.V. Santhosh, artist

Pallavi MD, Singer, Actor, Filmmaker

Pallavi Paul, Filmmaker

Sheela Gowda, Artist

N. Pushpamala, Artist

Indu Antony, Artist

Amshu Chukki, Artist

Yugashri S. A., Artist

B. Suresha, Filmmaker

Mamta Sagar, Poet

Archana Hande, Artist

Bindhumalini Narayanaswamy, Singer and Composer

Nisha Susan, Writer

Ramu Ramanathan, Playwright, journalist

Sushma Deshpande, Theatre artiste

Jayant Pawar, Playwright, author, journalist

Ashish Dha, Composer-Musician, Music Teacher and Researcher 

Dileep Raj, concerned citizen

Mangalesh Dabral, Poet

Gauhar Raza, Poet, Documentary Filmmaker, Scientist

Civic Chandran, Poet, playwright

B. Ekbal, Concerned citizen

J. Devika, Concerned citizen

E.V. Ramakrishnan, Writer

K.P. Ramanunni, Writer

Anitha Thampi, Poet

Anvar Ali, Poet, lyricist, documentary filmmaker

Gopi Krishnan, Concerned citizen

Ein Lall, Filmmaker

Kiranmayi I., Filmmaker

S. Joseph, Poet

Savitri Rajeevan, Poet

B. Rajeevan, Cultural critic and theorist

Ashis Sengupta, Concerned citizen

Vinutha Mallya, Editor and journalist

Sudhanva Deshpande, Theatre artiste and publisher

Monisha Behal, North East Network, concerned citizen

Tejaswini Niranjana, Writer and translator

Nasir Tyabji, Concerned citizen

Ania Loomba, Drama theorist

Debjani Bhattacharya, Concerned citizen

Uma Maheshwari Bhrugubanda, Film theorist

Bishnupriya Dutt, Academic and theatre professional

Rajan Kurai Krishnan, Film scholar

Rashmi Sawhney, Film scholar

Abhijit Roy, Film scholar

Ranjana Dave, Artist

Nachi, Filmmaker 

Potato Eaters Collective, Filmmakers

Mukul Haloi, Filmmaker 

Ashish Rajadhyaksha, Film scholar

Arun Khopkar, Filmmaker and writer

Ameet Parameswaran, Performance studies scholar

C.R.Parameswaran, Novelist and essayist

Riyas Komu, Artist

G. Arunima, concerned citizen

V. Geetha, Writer and translator

Brahma Prakash, Performance studies scholar

Babu Eshwar Prasad, Visual Artist and Filmmaker

Gauri Nagpal, Concerned citizen

Iyesha Geeth Abbas, Film researcher

Prateek Vats, Filmmaker

Joy Sengupta, Theatre artiste

Annie Zaidi, Writer

Shaili Sathyu, Theatre artiste

K.G. Sankara Pillai, Poet

Ananya Parekh, Arts Researcher

Badri Raina, Concerned citizen

Zoya Hasan, Concerned citizen

Anamika Haksar, Stage and Film Director

Mallika Taneja, Theatre artiste

Moinak Biswas, Film scholar

M.A. Baby, Concerned citizen

Rongili Biswas, Singer and Writer

Shuddhabrata Sengupta, Artist and Writer

Tanvi Mishra, Concerned citizen

Samik Bandyopadhyay, Art critic and film scholar

Sushmita, Theatre artiste

Abhaydev Praful, Musician

Akila R S, concerned citizen

Amalaa Mohan, Dancer

Amarnath Praful, Artist

Amba Salelkar, Advocate

Anish, Theatre Artiste

Anna Mathew, Concerned citizen and advocate

Annapoorani, Theatre artiste

Anoushka Kurien, Dancer

Arasu V, Concerned citizen

Aruna, Theatre Artiste

Arun Arivikalanchiyam, Concerned Citizen

Asha, Artist

Ashwini Kasi, Theatre artiste

Bhuvaneshwari, Theatre artiste

Devika S, Theatre artiste & Lawyer

Deepan, Theatre artiste

Ezhil, Theatre artiste

Hans Kaushik, Theatre artiste

Jai Ganesh, Theatre artiste

Jawad A. J, Concerned citizen and Advocate

Jimraj Milton, Concerned citizen and Advocate

Logesh Nagaraj, Theatre artiste

Kannappa Kasi, Therukoothu and Theatre artiste

Kanchana Priya, Trans Artist

Kanimozhi, Theatre artiste

Karthikeyan, Concerned citizen

Karuna Prasad, Theatre artiste & Publisher 

Kavinmalar, Theatre artiste and Journalist

Living Smile Vidya, Performance artiste

Madhan, Theatre artiste and Musician

Madhushree Basu, Artist

Malini Jeevarathnam, Filmmaker

Mohan T, Concerned citizen and Advocate

Mridula, Theatre artiste

Muthamizh, Theatre artiste

Parthasarathy, Concerned citizen and Advocate

Prabhu Nagesh, IT Professional and Concerned Citizen

Pralayan, Theatre artiste

Pravin K. P, Theatre and Visual Artist

Preethi Athreya, Contemporary Dancer

Rafiq, Filmmaker

Renuga Kasi, Theatre artiste

Revathi A, Trans author, activist and artist

Rohini, Film and Theatre artiste

Sabitha, Concerned citizen, LGBTQ activist

Sandhiya, Concerned citizen

Sankari, LGBTQ Activist and Theatre artiste

Sampath Kumar, Martial Artist

Shani, Visual Artist

Shankar Pugazh, Theatre and Film artiste

Sharan Karthik Raj, Concerned citizen and LGBTQ Activist

Shweta Narayan, Visual Artist

Sivasankaran, Theatre artiste 

Sowmya, Trans Theatre artiste

Soundharya, Trans dancer 

Srijith, Theatre Artist and Trainer

Sudha Ramalingam, Concerned citizen

Suresh Shakti Murugan, Concerned citizen 

Tanvi N.S., Concerned citizen

Thamizharasan Sekar, Theatre artiste

Thayamma Ramya, Trans Theatre artiste

Uma, Visual artist

Vaigai R, Concerned citizen

Vasudevan S S, Concerned citizen

Vijayaraghavan, Concerned citizen and Doctor

Vijay Antony, Theatre artiste

Vijay Narayanasamy, Theatre artiste

Vijay Ravikumar, Theatre artiste

Nagasaila, Concerned citizen

Gargi Bharadwaj, Theatre director, academic

Deepan Sivaraman, Theatre director, scenographer

Abheesh Sasidharan, Performance practitioner

P.N. Gopikrishnan, Poet and writer

Aashiq Abu, Filmmaker

Shyam Pushkaran, Scriptwriter

Archana Padmini, Artist

K.R. Manoj, Filmmaker

Prof. M.V. Narayanan, Concerned citizen

Sunil P Ilayidom, Concerned citizen 

Akkitham Vasudevan, Artist

Shaina Anand, Artist and Filmmaker

Samina Mishra, Filmmaker and writer

Praveen Pilassery, Arts researcher

Shivaji Panikkar, Arts scholar

B Ajith Kumar, Film editor

Suresh Rajan, Cinematographer

Sreejith Divakaran, Scriptwriter