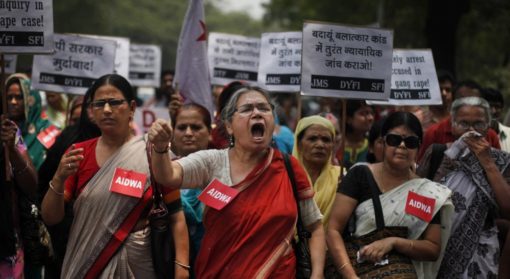 AIDWA Condemns Khattar and other BJP Leaders for their Despicable Remarks about Kashmiri Women
The All India Democratic Women's Association (AIDWA) condemns the statement made by the Chief Minister of Haryana M.L. Khattar that "people nowadays have started saying the route to Kashmir is cleared and now we will bring girls from Kashmir" for marriage. Not only is this statement in despicable, but what is even more distressing is that it was made at an event connected to the 'Beti Bachao Beti Padhao' campaign in the state. Vijay Goel, another BJP Rajya Sabha MP, hung up a poster outside his house with a photo of a Kashmiri girl, with the comment that there is now a smile on her face because Article 370 has gone.
This is not the first offensive statement made by BJP leaders targeting and objectifying Kashmiri women, after the illegal & unconstitutional abrogation of Article 370.  For example, Vikram Saini, BJP MLA from U.P, said in a public meeting, right after the abrogation that bachelors were now very happy, because they could now get 'gori' Kashmiri girls and buy property by Srinagar's Dal lake. This naked display of patriarchal aggression went viral, thus promoting a volley of sickening statements against Kashmiri women. The Sangh Parivar is using the situation to excite public sentiment against the already targeted Muslim minorities, particularly through attacks on the women of these communities.
The earlier statement by a female leader of the BJP women-wing calling for the rape of Muslim women to teach the community a lesson, the open defense by BJP leaders and lawyers of rapists & murderers of the Kathua case, and the deafening silence of PM Narendra Modi and Home Minister Amit Shah in all these cases, including in the current situation, are all clear pointers to the reactionary, patriarchal, communal and Manuvadi mindset of RSS-BJP.
The AIDWA demands strong action against Haryana Chief Minister Manohar Lal Khattar and other office bearers of the BJP in different states, for their shameful anti-women statements. The AIDWA urges all democratic forces and women's organisations to unitedly oppose and expose the nefarious designs of the BJP government in Jammu & Kashmir.
President
Malini Bhattacharya      
General Secretary
Mariam Dhawal
---