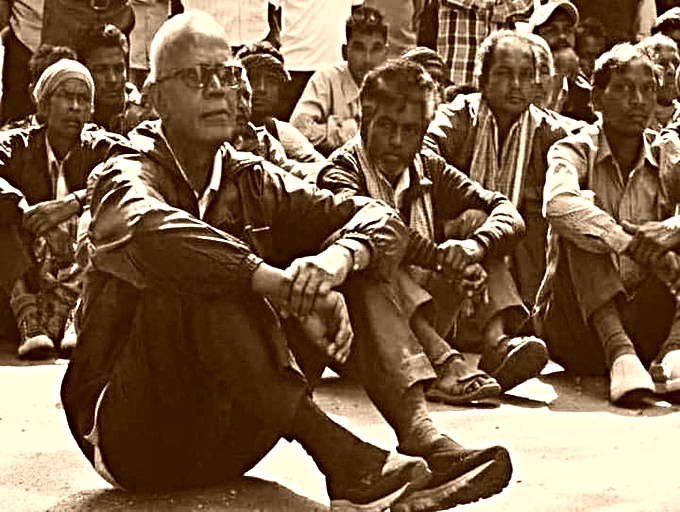 AIDWA Condemns the Institutional Murder of Fr. Stan Swamy
Demands Immediate Release of All Political and Human Rights Activists
The All India Democratic Women's Association (AIDWA) is deeply distressed by the passing of Father Stan Swamy. He spent his life fighting for the upliftment of the tribal community in Jharkhand. He was in judicial custody since October 2020 after being falsely implicated in the Bhima Koregaon case. 16 human rights activists have been incarcerated in this case by a vindictive state. This is not a natural death but an institutional murder by the heartless, tyrannical regime in power.  
Fr Stan was aged 84 years and ailing with Parkinson's disease. He was arrested under the draconian UAPA by the NIA and imprisoned in the Taloja jail in Navi Mumbai, Maharashtra. The NIA under Modi government repeatedly opposed his bail, prevented the supply of essential medicines and also timely treatment in a hospital. It was outrageous that he was not even allowed a straw and sipper in prison. His Covid infection was only detected after he was shifted to the hospital by the order of the High Court. This delay in providing crucial treatment led to a deterioration in his health from which he could never recover. His heart-rending appeal to the court for bail so that he could die amongst his people in Bagaicha, Ranchi did not stir any compassion in our judicial system.    
AIDWA clearly holds the authoritarian central government, insensitive investigating agencies and uncaring judicial system responsible for the death of Fr Stan Swamy. All those responsible for his institutional murder must be brought to book.
AIDWA demands the immediate release of all political and human rights activists imprisoned in various jails on false charges under UAPA, Sedition Act and other draconian laws and the dropping of the false cases against them. 
Malini Bhattacharya
President
Mariam Dhawale
General Secretary