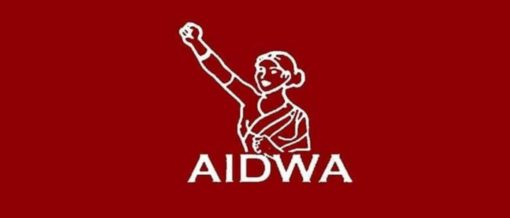 The All India Democratic Women's Association (AIDWA) strongly condemns the attempt to silence the Unnao rape survivor, her lawyer and her family. On July 28th, a truck rammed into the car in which the survivor, family and lawyer were travelling. The truck was over-speeding on the wrong side of the road, with its number plate covered with grease. The security officer appointed for her protection was not present when this occurred. As per the FIR, the officer was in constant touch with the imprisoned BJP MLA Kuldeep Sengar, leaking information of her travel plans to him. Furthermore, the accused MLA had been issuing death threats to the survivor and family through phone calls from prison. It is deeply disturbing that the BJP-RSS combine is flagrantly using their power to go to the extent of murdering their opponents to silence them. The survivor and lawyer have been critically injured and her aunts have been killed.
The recent events in the Unnao rape case clearly demonstrate the brazen exercise of muscle and money power to cover up the misdeeds of high-ups controlling the BJP-RSS regime in Uttar Pradesh. Despite the case being entrusted to the CBI a few months after the incident in 2017, and the CBI submitting three charge-sheets against the accused BJP MLA Kuldeep Sengar and his henchmen, it has not come up for trial as yet. Meanwhile, the girl's father has died in custody and her uncle has allegedly been jailed for false cases.
Under such circumstances, the role of the accused MLA Sengar is strongly suspected in this incident, and a FIR has been lodged against him and ten others for murder, attempted murder and criminal conspiracy. The RSS-BJP regime in Uttar Pradesh and the country have been flouting all democratic norms to intimidating their opponents, and the BJP State Government has not taken any action against the rape accused MLA.
The demands of her lawyer include –
1) Best available treatment to the critically injured woman and her lawyer, with the UP state government bearing all expenses
2) Complete protection to the woman and family
3) Action be taken against the police personnel responsible appointed for her safety
4) Immediate inquiry into the phone facilities provided to the jailed accused MLA Sengar and action against the concerned jail authorities for dereliction of duty
5) Trial be started immediately in a fast track court
6) She and her family be given adequate compensation for torture and harassment
7) Sengar be immediately removed from the post of MLA
AIDWA leaders from Uttar Pradesh met the victim and her lawyer, who are now undergoing treatment at Lucknow. We hope for their early recovery.
AIDWA Units will hold protests across the country, and our struggle will continue until justice is served.
We urge the public to come out to the streets and join us in this fight.
President
Malini Bhattacharya
General Secretary
Mariam Dhawale
---